Job Types
Employment Types
Industries
Job Locations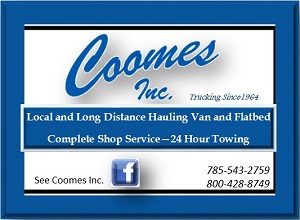 DISPATCHER
Trucking Company hauling across the 48 contiguous states, requires a dispatcher with 2 years' experience in flatbed and/or vans.
Based in Phillipsburg, KS;
Hours 8 - 5 Monday to Friday;
Directly liaise with Customers to source loads;
Directly liaise with Drivers to dispatch loads and keep track of status of load;
Keep tabs on the weather at all drivers' locations to be able to flag potential issues;
Coordinate and manage the most efficient loads to remain cost-effective as a company, combining shipments based on their routes and timeline to minimize how many trucks and drivers are out;
Determine the best delivery methods and negotiate rates directly with vendors and customers, and get the necessary documents and permits that drivers will need when shipping chemicals or livestock;
Perform other duties as assigned;
Answer phone and field incoming calls, and respond to emails, as applicable.
2 Years' experience in transportation dispatching of flatbeds and or vans;
Computer Skills - Internet, Email, MS Excel & MS Word;
Time management skills and ability to prioritize work flow;
Exceptional interpersonal skills and ability to communicate with people at all levels within the organization and outside both in person and in writing;
Analytical Thinking Skills.
Send Résumé, together with contactable references, to:
1697 East 250 Lane
Phillipsburg, KS 67661
(No walk-ins)
Company benefits package available
Coomes Trucking
1697 East 250 Lane
Phillipsburg, KS 67661

Google Map® | MapQuest Map® | Yahoo Map ®
Coomes Trucking Jobs: (2)