/

/

Robert E. Underwood (February 18, 1947 - March 17, 2020)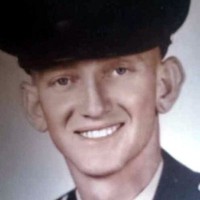 Norton resident, Robert Eugene Underwood passed away, Tuesday, March 17, 2020 at the Logan Manor Nursing Home in Logan at the age of 73.
He was born the eldest son of James Loyal and Jacqueline (Valle) Underwood, on February 18, 1947 in Norton. He was raised to manhood on the family farm in Densmore. He attended Mechanic school in Wichita and then returned home to the farm and work for KDOT. He was a member of the Kansas National Guard.
He met the love of his life, Virginia Lee Rice and was united in marriage on June 14, 1969 in Almena.
Robert was very active in the community, he was a city councilman, member of the American Legion, served as Densmore Class President and a member of the Christian Church.
After 35 years at KDOT and 26 years with the Kansas National Guard, he retired. His passion was restoring tractors, especially Farmall. He was big in the Sunflower Pioneer Power Assoc. (SPPA) and the International Harvester Collectors Club. He was very passionate about his tractors. Anyone that needed help, he was there for you.
Robert is survived by his wife, Virginia of Norton; daughters Deanna Sumner and husband Todd of Norcatur and Denise Roberson of Hoxie; son Dan and wife Russchelle of Joes, CO; 8 grandchildren; many great grandchildren; and a brother William of Norton.
He was preceded in death by his parents; sister, Gloria Jones; brother, Pat; son, James; and grandson, Brandon Sumner.
Cremation was planned. Private Memorial Services will be held at 2:00 p.m. Friday, March 27, 2020 in the Norton Christian Church, Norton. Inurnment with military honors will follow in the Norton Cemetery, Norton. The memorial services will be streamed live on Olliff-Boeve Memorial Chapel's Facebook page.
Memorial contributions may be made to the Norton American Legion Post No. 63 and sent in care of the Olliff-Boeve Memorial Chapel, P. O. Box 563, Phillipsburg, KS 67661.