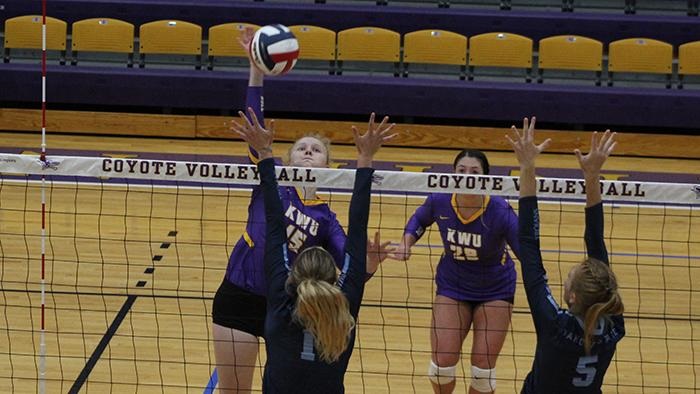 WICHITA – Kansas Wesleyan volleyball is really liking this spring regular season thing.
The Coyotes moved to 2-0 in 2021, thanks to a five-set win over Friends – 30-28, 25-22, 20-25, 21-25, 15-8 – on Saturday afternoon at the Garvey Center.
It was also KWU's first win in five sets this season, going 0-3 in their previous attempts. The victory also boosted KWU's record to 12-9 overall and 8-5 in the KCAC.
The opening set went back and forth between the teams. Wesleyan built an early 8-5 lead but Friends came back and took a 14-10 lead. Wesleyan didn't fade away. The Coyotes came back and tied things up at 21-all, and again at 22, and 23, before Friends had a first chance at set point at 24-23.
Maddy Beckett (SO/Halstead, Kan.) recorded a kill to tie the set, and force the volleyball version of overtime. A service ace by Emily Monson (SO/Cheney, Kan.) gave KWU its first set point chance, but Friends would tie things up again. Friends twice more had set points, but a kill by Ryann Kats (JR/Prairie View, Kan.) and another by Morgan Bryand (SO/Wichita, Kan.) gave KWU set point at 28-27. Friends tied it again, but a Bryand kill and a service ace by Hinamalailena Kua (FR/Hilo, Hawaii) would give KWU the opening set 30-28.
Friends raced out to a 4-0 lead in the second, but the Coyotes tied it up at 6-all and took a 7-6 lead on a block by Elizabeth Hardacre (SO/Kensington, Kan.). Wesleyan's lead grew to 9-7, but Friends came back and took a 14-12 lead. Back came the Coyotes, tying it at 14, only to see Friends take a 19-15 lead in the set.
The Coyotes then got things going. A kill by Hardacre sparked a rally that saw KWU tie it at 21-all on a kill by Beckett. Wesleyan didn't slow down there, closing the set on a 9-3 run to win 25-22.
The third set was much like the first two, neither team able to build a big lead until late when Friends took a 24-10 lead. A kill by Josie Deckinger (FR/Wichita, Kan.) staved off a set point for Friends, but the Falcons would take the third 25-20.
KWU led 8-4 in the fourth set, before Friends turned things around taking a 19-12 lead. Wesleyan would rally, getting within a point on a block by Audrey Sineath (FR/Gardner, Kan.) and Kats at 22-21, but Friends would score the final three points to win 25-21.
Wesleyan led the entire fifth set. A kill by Kats made it 5-2 early in the set, and the Coyotes would lead 9-7 when then offense kicked into overdrive. KWU scored six of the final seven points to come away with the 15-8 win in the final set.
Beckett paced the Coyotes with 21 kills, while Bryand had 15 and Kats had a career best 12 in the match. Monson set a new KWU record for digs in a five-set match with 41. The overall KWU record is 46 in four sets, by Crystal Meadows in 2001.
Deckinger had 32 assists and Cortney Hanna (SO/Lawrence, Kan.) had 24. Kats also led the Coyotes with six blocks. Bryand and Kua had three service aces each.
KWU returns to action with huge triangular on Friday in McPherson. The Coyotes face the No. 2 and No. 3 ranked teams in the KCAC in Tabor and McPherson inside McPherson's Sport Center.