/

/

PHS Forensics Team Places Second at MCL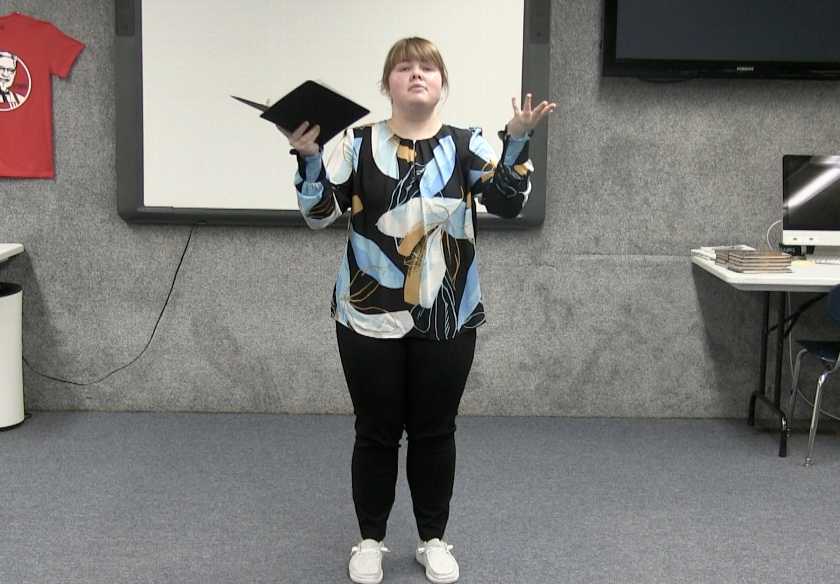 PHS Senior Zoey Dinkel performs her poetry for the MCL forensics tournament.
The Phillipsburg High forensics team travelled to Ellis on Monday, March 8th, to compete in the final round of the MCL tournament. The team claimed three event championship titles: Nicholas Schemper in informative, Zoey Dinkel in poetry, and Theo Keesee and Jeremy Ford in improvised duet acting.
Other medalists include Jeremy Ford who placed 2nd in poetry, Evea Arment and Jacie Roth who placed 3rd in duet acting, Nicholas Schemper who placed 3rd in extemporaneous, Zoey Dinkel who placed 4th in humorous solo, Sophie Imm who placed 5th in impromptu, Sydney Mitchell who placed 6th in POI, and Corinne Cole and Kay Pakkebier who placed 6th in duet acting.
The team placed second behind Norton, who repeated as MCL champions. This year's contest brought many new changes including preliminary rounds which were held virtually through pre-recorded performances. However, the final rounds on Monday were held in person. The team is coached by Kim Pakkebier, who was pleased with her team's performances.
"I'm proud of our results at this year's MCL tournament. We've gone through a lot of changes this year due to Covid, but our students have handled it all amazingly well," Pakkebier said. Tournaments so far this year have been a hybrid of virtual formats. Most tournaments require live performances using Zoom.
"Students felt a little awkward at first when they performed to a computer screen, but they are getting used to it. Thankfully, we haven't had too many technical glitches," Pakkebier said. The 2021 KSHSAA State tournament will be completely virtual this year. "Although we will have one or two old-fashioned, in-person tournaments, these virtual tournaments will help prepare us for State competition later this spring."