/

/

Phillipsburg High School inducts National Honor Society members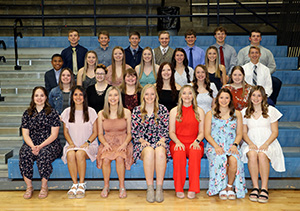 PHS inducts 27 National Honor Society members
On Monday, April 12, 27 students were inducted into the Phillipsburg High School chapter of the National Honor Society at a ceremony in Chuck Newlin Gymnasium.
Members of the class of 2021 were introduced first, as these members were not able to have a formal induction ceremony during the spring of 2020 with Covid cancelling all spring activities.
Those members included club President Nicholas Schemper, Vice President Ethan Leidig, Secretary Kagan Keeten, Treasurer Collette Kennedy, Student Council Representatives Ty Sides and Zoey Dinkel, Meredith Jacobs, Meg Keeten, Summer Peak, Kenlee Ebner, Kay Pakkebier, Ava Schemper, Jacie Roth and Evea Arment.
The club officers then read passages that outlined the guiding principles of National Honor Society: scholarship, leadership, character and service. Following the lighting of the candles that represented each trait, all members recited the National Honor Society pledge.
Members of the class of 2022 were introduced and given their certificates: Abby Babcock, Madysen Boydston, Brock Buresh, Caitlyn Cheney, Corinne Cole, Emily Cole, Jeremy Ford, Joel Ford, Lauren Heersink, Emma Hunnacutt, Gracie Jessup, Theo Keesee, Jayden Minkler and Eric Moon.
The evening concluded with a reception for the new members and their families.
Counselor Joe Buresh is the sponsor of the National Honor Society chapter.