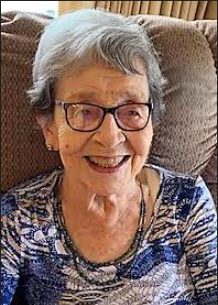 Nelda Mae Ralston, daughter of Clarence and Lena (Cockroft) Lanman, was born February 11, 1930 at home in Phillips County Kansas. She went home to be with the Lord at Bryan West Hospital, Lincoln, Nebraska on Thursday, April 22, 2021. Nelda attended grade school at Crystal Creek Country School from 1937- 1944. She lived with her Aunt Gladys and Uncle Charley in Alma, NE. while attending Alma High School and graduated in May of 1948. On June 18, 1948, she married Roger Ralston at Englewood Wesleyan Church, in Phillips County. They were the parents of Ronelle, Lonnie, and Michael.

Nelda and Roger lived in Phillips County after they married, also moving to the Sandhills in 1956, and to Concordia in 1958 where they lived for 14 years. They moved to Clay Center Kansas in 1971 where they lived through their
retirement. She and Roger enjoyed traveling and camping until her beloved husband's untimely passing in 1992.
Nelda was a homemaker and did childcare in her home. She worked many years as a Nurse's Aide, and then for Wohler's cleaners in Clay Center. She was active in her church activities and the Home Extension Office club. After retirement, she took many bus trips and enjoyed eating out at local restaurants, and visiting her daughter for two weeks at Christmas time in Phoenix, AZ. Nelda served as an officer and member of the Extension Homemaker's Unit (EHU) for 14 years, was a faithful Member of Wesleyan Church in Concordia and Clay Center for 45 Years, participated in a Clay Center bowling league for 15 Years, served as Community Mission Director for Wesleyan Women for 8 Years, and volunteered for church youth activities, camp outings, and as a Sunday School teacher. She helped with local fundraising drives. Nelda enjoyed embroidering, knitting, crocheting, and latch hooking gifts for her children and grandbabies. She was a good wife, mother, and "Grandma". She was always happy to spend time with her grandchildren and great grandchildren. In 2015 Nelda moved to a condo at Van Dorn Villa in Lincoln, NE to be closer to her son Mike and his family. She attended Heartland Bible Church in Lincoln and remained in touch with friends and family through email and phone calls. She was an avid list maker, and had a sharp memory for names, dates and details. Her family and her faith were very important to her. She loved the Lord, and His Word. She especially loved singing hymns, always remembering the lyrics, even up to her last day on earth.

Nelda was preceded in death by her husband Roger Ralston and only brother, Kenneth Lanman of Alma, NE. Nelda is survived and was affectionately loved by her three children, 8 grandchildren, and 13 great-grandchildren:
Daughter Ronelle Ralston of Phoenix, Az, Son Lonnie Ralston and wife Marvette, of Baldwin City Ks, and their three grown children: Heather, and husband Eric Staab, children Trent, Dayton, Elin of Topeka. Derek Ralston, and fiancé Joanna Chan of San Francisco, CA,. Holly, and husband John Rickner, children Oaklee and Hattie of Chanute, Ks.
Son Michael Ralston and wife Charlotte of Lincoln, NE and their five grown children: Randy, and wife Julie, children
Kayla, Levi, Olivia, Isaac, Lilianna. Alex and his daughter Adalyn. Charles and wife Cheyenne. Peter and wife Abigail, children Riley and Daniel. Micah Ralston, her youngest grandson, all of Lincoln, NE.
Visitation for Nelda will be from 1-2 PM with funeral service to follow at 2:00 PM, at Neill-Schwensen-Rook Funeral home in Clay Center, KS on Thursday, April 29 th , 2021. Casket bearers are her grandsons Derek, Randy, Alex, Charles, Peter, Micah, and granddaughters' husbands Eric and John. Her body will be laid to rest in the Greenwood Cemetery in Clay Center, Kansas, next to her dear husband of 44 years, until the final Resurrection, but her spirit is with the Lord now and for eternity.

Memorial contributions can be made to Voice of the Martyrs or Wesleyan Mission organization c/o the funeral home.