/

/

The Phillipsburg Forensics Team Makes School History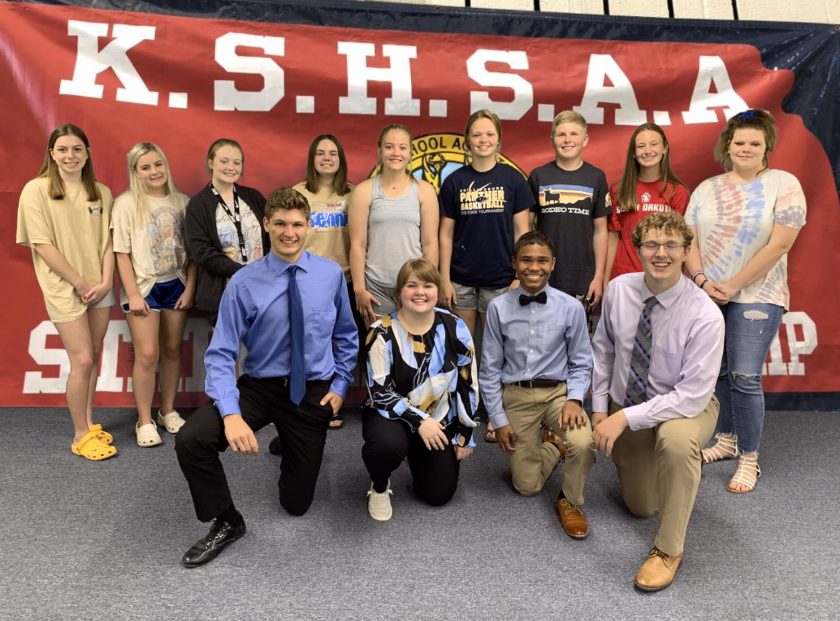 The PHS Forensics team competed in the KSHSAA 3A Speech and Drama Championship on Saturday, May 1, and earned six event medals and placed 3rd as a team out of 46 Kansas 3A schools that competed.
Juniors Theo Keesee and Jeremy Ford who were edged out of finals as freshmen made their return to State and claimed the championship in Improvised Duet Acting, which cemented their undefeated season in I.D.A.
Senior Zoey Dinkel also sought redemption this year as she returned to State after having placed 7th in Duet as a sophomore. This year she qualified for finals in two events. In the event of Poetry, Dinkel won the championship, and in Humorous Solo Acting she was the runner-up.
Other top placers for Phillipsburg included Theo Keesee's 2nd place finish in Prose and Jeremy Ford's 3rd place finish in Poetry. Senior Nicholas Schemper also earned a State medal by placing 6th in Informative.
This year marks the first year in Phillipsburg school history that a team was able to finish in the top three places at State. The team will receive a 3rd place KSHSAA championship trophy. Having six finalists and two State Champions is also a first for Phillipsburg. The only previous State Champion was Maggie Malmberg in 2017.
"I'm really excited for our team. When the final placings were announced and the kids jumped around with excitement, it was so special. I'm so happy for them. We have such a talented team. Everyone of our team members contributed points for our team finish, and they all deserve a big congratulations," Coach Kim Pakkebier said.
Other State competitors for Phillipsburg included sophomores Allee VanKooten and Alliyah Brunick who finished 7th in IDA and just missed making it to finals by one point. Sophomore Jordynn McDiffett was a semi-finalist in Humorous Solo, and sophomore Sophie Imm was a semi-finalist in Impromptu.
Barely missing semi-finals was Junior Corinne Cole and Senior Kay Pakkebier in Duet and Nick Schemper in Extemp. Other competitors included Corinne Cole in Extemp, freshman Christina Footh in Extemp, seniors Jacie Roth and Evea Arment in Duet, Pakkebier in Oration, and freshman Layton Johnson in Humorous Solo.
This year's tournament was held virtually using Zoom and Tabroom.com. "This State tournament was quite different from the traditional one that is held in Wichita. It's disappointing that this team couldn't experience the fun of that environment, but I'm just glad they were able to compete," Coach Pakkebier said.
The KSHSAA Speech and Drama State Festival was also held Saturday. Freshmen Emma Dibble and Caydence Corman receive "1" division rating for their performance in I.D.A. Junior Ben Bennight and freshman Layton Johnson also received a "1" division rating in I.D.A.