/

/

Phillipsburg High School Publication Department captures the KSPA 3A State title
Phillipsburg High School Publication Department captures the KSPA 3A State title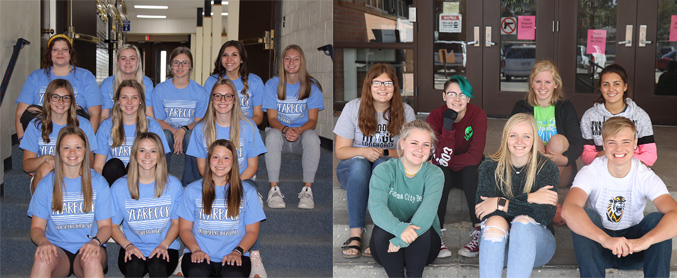 PHS Publication Staffs capture KSPA 3A State Title
The Phillipsburg High School publications classes continued a longstanding tradition by capturing the Kansas Scholastic Press Association 3A State title on Saturday, May 1.
Journalists in the yearbook and newspaper classes competed in various categories including design, photography, video production and writing. Participants submitted their entries virtually this year, with all contests being completed on Monday, April 19.
For individual contest placings, the 3A and 4A categories were judged together, while the overall school winners were separated by classifications.
When judging was complete, Phillipsburg had four state champions: junior Gracie Jessup in headline writing, sophomore Erin Johnson in cutline writing, junior Lizzie Sauer in video PSA and senior Kay Pakkebier in video news.
Other individual placings included senior Meg Keeten placed fourth in yearbook sports writing, senior Summer Peak placed third in film review writing and second in multimedia storytelling, Jessup also placed fourth in sports writing, sophomore Taryn Sides placed second in cutline writing and second in advertising, senior Ethan Leidig placed fourth in news writing, senior Ava Schemper placed second in multimedia storytelling, Pakkebier also placed third in video sports promotion and junior Abby Babcock placed second in sports photography and sixth in headline writing.
Moreover, the entire publication staff was awarded the 3A Sweepstakes winner. This accomplishment marks the second time in the three years, also 2019, that the combined staffs have won the 3A title. Last year, the publications department missed capturing the title by a mere two points.
"I am extremely proud of the publications department and their hard work in completing their state contest entries. Although not everyone was able to place at the state meet, everyone had a quality submission and worked extremely hard this year to compete," Advisor Robin Sides said. "I am also proud of their everyday effort in producing the Panther Pause newspaper and the Panther yearbook. They spend hours upon hours attending events, writing stories and taking pictures to create a true history of our school through these publications."