/

/

Northern Valley Jr. High Track Results from Logan Invitational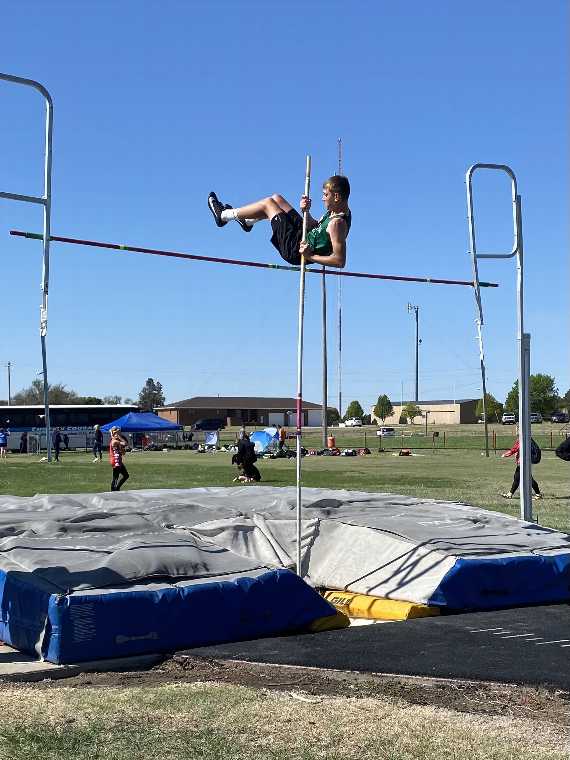 On May 4 Northern Valley traveled to Logan to compete in the Logan Invitational. It was a perfect day for a track meet, temperatures in the sixties and no wind. The Huskies had a great day performing many personal bests. Northern Valley came home with three 2nd place plaques; junior high girls, junior high boys and 6th grade girls.
The NV 6th grade girls won 12 medals on the day. Three gold medals were won, Jaycee Gebhard in the 400, Maria Rodriguez in the 100 and Jordyn Cox in the softball throw. Maria also won two silver medals in the long and high jump. Silver medals were also won by Iris Schemper in the softball throw, Trista Smith in the discus and Jaycee in the 800.
The NV 6th grade boys placed 4th as a team. Conner David won two medals in the discus and softball throw, while Wyatt Compton won three medals in the shot, 200 and 400.
The NV junior high boys also won 12 medals on the day. Gavin Thalheim won four gold medals and broke two Northern Valley 7th grade records. Gavin pole vaulted 9' 7" to break the 7th grade PV record, which was held by Eli Lowry at 9' 6" in 2011. Gavin also broke the 7th grade 200m Hurdle record, running it in 29.0. The old record was held by Caleb Cox at 29.25 in 1997. Owen Hammond won four medals, one was gold in the high jump. 8th graders Caden Lowry (1600) and Jason Davis (high jump) each won a bronze medal. 7th grader Maverick Rogers had a PR in the pole vault winning second place. Clay Van Patten had a PR in the discus to win 6th place.
The NV junior high girls won 13 medals at the Logan meet. Audrey Bina won four medals which included gold medals in the high jump and 200. Delaney Sides had her best track meet winning four medals, two gold medals in the discus and pole vault and two bronze medals in the 800 and softball throw. JaNee Moore had her best day running the hurdles bring home a silver medal in the 200 hurdles. 7th grader Kathryn Speer had a PR in the softball throw winning a silver medal and classmate Brooke Preston threw the shot well placing third.
Northern Valley 6th Girls Results – 2nd Place
100m 1st – Maria Rodriguez – 15.1
3rd – Trista Smith – 16.1
200m 3rd – Maria Rodriguez – 31.0
4th – Trista Smith – 33.9
400m 1st – Jaycee Gebhard – 1:26.7
800m 2nd – Jaycee Gebhard – 3:27.1
Softball Throw 1st – Jordyn Cox – 108' 3"
2nd – Iris Schemper – 97' 4"
3rd – Trista Smith – 94' 9"
Shot 6th – Iris Schemper – 19' 3"
Discus 2nd – Trista Smith – 60' 8"
6th – Iris Schemper – 45' 7"
Long Jump 2nd – Maria Rodriguez – 12' 0"
3rd – Jaycee Gebhard – 9' 8"
High Jump 2nd – Maria Rodriguez – 3' 6"
Northern Valley 6th Boys Results – 4th Place
100m 4th – Wyatt Compton – 16.8
5th – Conner David – 17.8
200m 3rd – Wyatt Compton – 34.2
5th – Conner David – 36.2
400m 3rd – Wyatt Compton – 1:29.7
Shot 2nd – Wyatt Compton – 19' 0"
Discus 3rd – Conner David – 53' 5"
Softball Throw 2nd – Conner David – 114' 7"
NV 7th & 8th grade Boys Results – 2nd Place
100m Hurdles 1st – Gavin Thalheim – 16.4
3rd – Owen Hammond – 17.1
5th – Maverick Rogers – 24.4
200m Hurdles 1st – Gavin Thalheim – 29.0 (NV 7th grade Record)
2nd – Owen Hammond – 31.8
5th – Jason Davis – 37.8
100m 2nd – Owen Hammond – 13.6
200m 6th – Jason Davis – 36.0
800m 5th – Caden Lowry – 2:55.4
1600m 3rd – Caden Lowry – 6:19.4
Discus 6th – Clay Van Patten – 54' 6"
High Jump 1st – Owen Hammond – 4'6"
3rd – Jason Davis – 3' 10"
Softball Throw 1st – Gavin Thalheim – 189' 7"
Pole Vault 1st – Gavin Thalheim – 9' 7" (NV 7th Grade Record)
2nd – Maverick Rogers – 6' 0"
400m Relay 4th – Rogers, Van Patten, Vsetecka, Keith – 1:19.7
800m Relay 2nd – Lowry, Van Patten, Vsetecka, Keith – 2:41.9
Medley Relay 4th – Van Patten, Keith, Vsetecka, Lowry – 2:41.7
NV 7th & 8th Grade Girls Results – 2nd Place
100m 2nd – Audrey Bina – 14.5
4th – Kathryn Speer – 15.0
200m 1st – Audrey Bina – 29.0
6th – Kathryn Speer – 32.2
400m 2nd – Audrey Bina – 1:12.0
800m 3rd – Delaney Sides – 3:06.2
5th – Landry Gebhard – 3:11.3
1600m 4th – Landry Gebhard – 7:06.7
100m Hurdles 5th – JaNee Moore – 20.6
200m Hurdles 2nd – JaNee Moore – 36.6
Softball Throw 2nd – Kathryn Speer – 140' 7"
3rd – Delaney Sides – 139' 5"
Shot 3rd – Brooke Preston – 25' 10"
5th – Kathryn Speer – 25' 9"
Discus 1st – Delaney Sides – 66' 6"
Long Jump 6th – JaNee Moore – 11' 2"
Triple Jump 5th – JaNee Moore – 25' 8"
High Jump 1st – Audrey Bina – 4' 2"
5th – Tatum Lentz – 3' 10"
Pole Vault 1st – Delaney Sides – 6'0"
400m Relay 3rd – Adams, Koch, Lentz, Hansen - 1:06.9
800m Relay 3rd – Adams, Koch, Preston, Lentz - 2:17.0
Medley Relay 4th – Koch, Gebhard, Adams, Hansen – 2:43.3