/

/

Priscilla Porter (March 20, 1939 - May 23, 2021)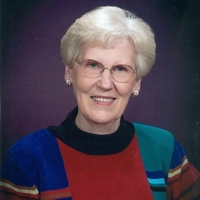 Priscilla E. Porter, daughter of William and Elizabeth (Rahjes) Seeman, was born in Kensington, KS on March 20, 1939. She died May 23, 2021 at the Andbe Home in Norton, KS at the age of 82.
On May 2, 1971 at St. John Lutheran Church in Kensington, she was united in marriage to Benjamin Porter of Hastings, NE. Ben had two daughters Tammie and Cindy at the time of their marriage. Sadly Ben died suddenly on January 23, 2001.
Priscilla worked outside the home most of her life. She started at Rietzke's Grocery Store in Kensington, then worked at the Smith Center Medical Clinic up until her marriage when she moved to Hastings. She then took a job at Brommers Eye Glass Dispensary where she stayed for 20 years until it closed. Priscilla was looking for a new job when she saw an ad in the Hastings Tribune for a sales clerk in Allen's Wine Cellar. She applied and worked there for the next 20 years.
She was a fun loving person. People loved her and she loved people! She always had a big smile and great laugh. She had this way of tilting her head, raising her eyebrows that no one else could match!
Priscilla loved her Lord and Savior. She attended regular church services at the Lutheran Church of the Good Shephard in Hastings. She was also an active member of the ladies circle and participated in numerous church functions.
She was preceded in death by her parents; husband, Ben; four brothers Paul Christian, John, Rudolph, and Paul; and seven sisters Doris Strege, Ruth Seemann, Julie Landvalter, Wilma Wangerin, Cecilia Grauerholz, Marie Wangerin, and Alma Johnson.
Survivors include her step-daughters Tammy Garcia and Cynthia Porter, both of Lakewood, CO; a brother Thomas Seemann of Johnson, KS; two sister's-in-law Kay Seemann of Smith Center, KS and Margaret Seeman of Norton, KS; and multiple nieces and nephews.
Funeral services for Priscilla will be 10:30 a.m. Friday, May 28, 2021 at the St. John Lutheran Church in Kensington, KS with Pastor Lorna Paulus officiating. Services will be streamed live on the Olliff-Boeve Memorial Chapel Facebook Page. Burial will follow in the St. John Lutheran Cemetery, Kensington.
Mrs. Porter will lie in state from 5 p.m. until 9 p.m. Wednesday and 9 a.m. to 9 p.m. Thursday at the Olliff-Boeve Memorial Chapel, 1115 2nd Street, Phillipsburg, KS 67661.
Memorial contributions may be made to the Senior Action Meal Program of Hastings, NE c/o Olliff-Boeve Memorial Chapel, Phillipsburg.