/

/

LHS Receives Garden Tower Donation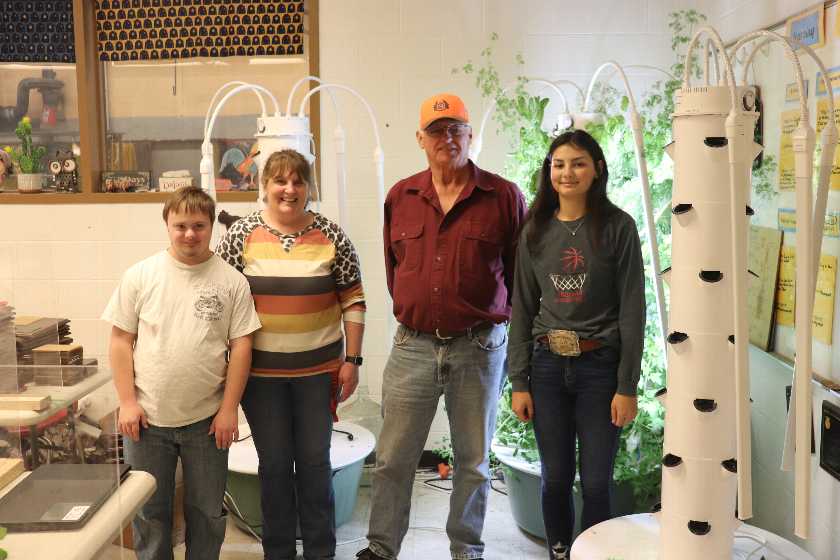 Mrs. Janet Gottstine poses with her Plant and Animal Science students Aaron McClurg and Jersey Voss as they receive a donation of three garden towers from local resident Alan States.
Logan resident Alan States donated three garden towers that are now part of the Agriculture classroom at Logan High School. He purchased the three towers with the hopes of growing produce himself. He realized he didn't have the time to care for them and decided to donate them to the Ag classroom.
Each tower holds 35 plants. The garden tower is a hydroponic system, which means that it runs water on the roots every 15 minutes. The system runs for 20 minutes to keep the plants hydrated and fertilized. No soil is involved in this process.
The Plant and Animal science class has been experimenting with different plants since December when the towers were given to them. They have grown herbs, lettuce, spinach, tomatoes, peppers, celery, swiss chard and eggplant. Some plants have produced better than others. With the experience and knowledge they have gained, the class hopes to grow produce throughout the school year to provide vegetables for the school cafeteria.
A very special thank you to Alan for the generous donation! This will continue to be a great experience for the ag classes, and all students and staff will enjoy the food in the cafeteria.