/

/

48th Annual Kansas Shrine Bowl features area athletes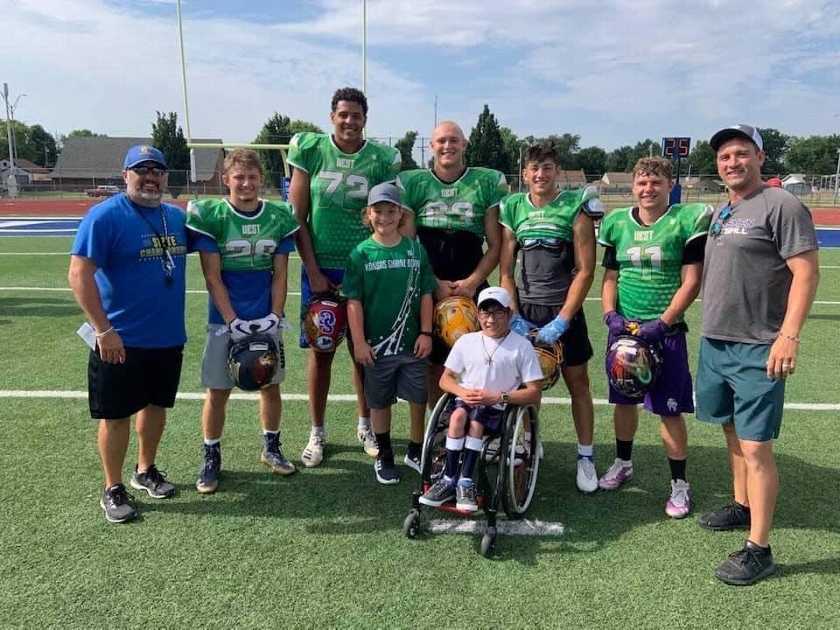 Head Coach Lucas Melvin, Ty Sides, Harlan Obioha, Christian Hawks, Jonah Ruder, Ethan Abell and Coach Jeff Hennick with Honorary Captain Colton Metzler of Ellis. Courtesy Photo.
On Saturday, June 26, the 48th Annual Kansas Shrine Bowl was held at Hutchinson Community College's Gowans Stadium.
The Mid-Continent league was well represented with multiple athletes and coaches: Ethan Abell, Oakley; Coach Jeff Hennick, Oakley; Christien Hawks and Jonah Ruder, Norton; Head West Coach Lucas Melvin, Norton; Harlan Obioha, Hoxie and Ty Sides, Philliipsburg.
Other area athletes included Gaven Haselhorst, Hays.
The West struck first three minutes into the game when Junction City quarterback Andrew Khoury found receiver Phillipsburg's Ty Sides on the sideline and Sides maneuvered his way down the field for a 59-yard touchdown reception.
From there the game became a defensive standoff with neither team being about to put the ball in the end zone. The West's defense was led by Hays' Haselhorst, who had three sacks and five tackles on the day.
The West sealed the East's fate when Clearwater quarterback Tanner Cash punched in a six-yard touchdown run with 4:36 left on the clock.
The West achieved only the sixth shutout in Shrine Bowl history by defeating the East 14-0.
Sides earned West MVP honors as he hauled in five catches for 126 yards and logged double digit return yards. The East MVP was Branden Martin of Tonganoxie.
The 49th Annual Shrine Bowl game is set to take place in Pittsburg, Ks.