/

/

Martha Kellogg (April 17, 1923 - July 14, 2021)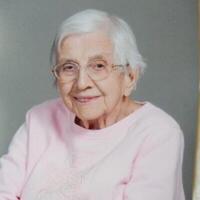 Phillipsburg resident Martha Kellogg, passed away July 14 at the Phillips County Hospital in Phillipsburg at the age of 98. She was born April 17, 1923 in Sachsenflur, Germany.
Survivors include her daughter Karolyn Kellogg of Hutchinson: 2 sons, Kenneth of Andover & Robert of Valley Center; her brother Carl Zollman of Phillipsburg; 7 grandchildren & 11 great grandchildren.
Funeral services will be held Monday, July 19 at 10:30 a.m. in the Emmanuel Evangelical Lutheran Church, Stuttgart, with Pastor Lee Bennight officiating. Burial will follow in the Emmanuel Lutheran Cemetery.
Visitation will be from noon to 9:00 Saturday & Sunday at the funeral home with the family receiving friends from 7:00 to 8:00 p.m. Sunday.
Memorial contributions may be made to the Rex & Martha Kellogg Memorial 4-H Scholarship or the Church.
To send a flower arrangement or to plant trees in memory of Martha Kellogg, please click here to visit our Sympathy Store.
SERVICES
Funeral Service
Monday, July 19, 2021
10:30 AM
Emmanuel Evangelical Lutheran Church
355 Main Street
Stuttgart, Kansas 67661