/

/

SETTING RECORDS, CROWNING CHAMPS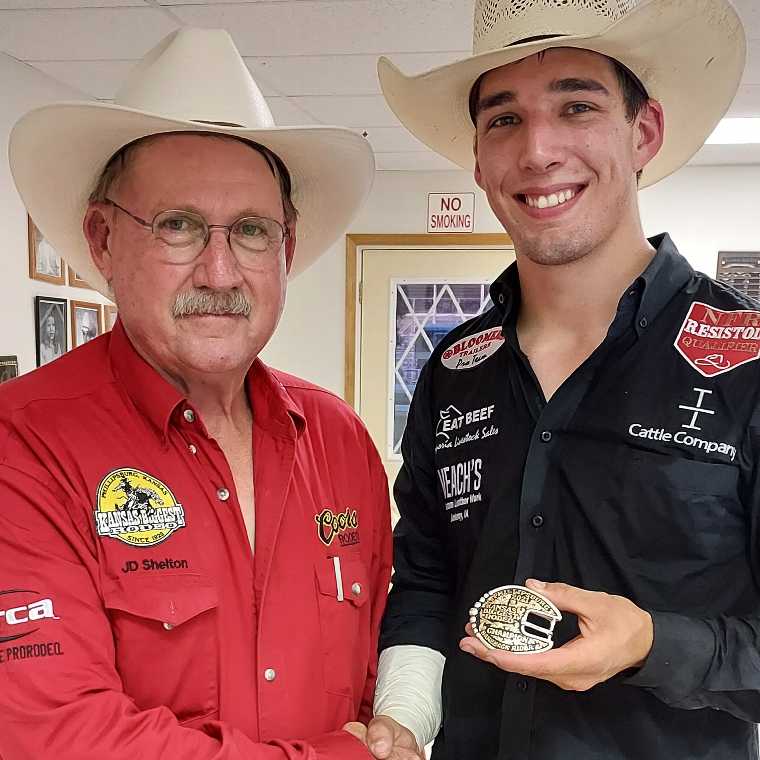 Jess Pope, a two-time Phillipsburg rodeo bareback riding champion, stands with Phillipsburg rodeo chairman JD Shelton. The Waverly, Kansas man won the title with an 87.5 point ride.
Phillipsburg, Kans. (August 7, 2021) – In the bareback riding, Kansas cowboy Jesse Pope won the Phillipsburg title for the second consecutive year.
Kansas bareback rider repeats title; world champion barrel racer sets arena record
The 22-year-old cowboy rode Beutler and Son Rodeo's Nutrena's Election Day for 87.5 points and $2980.
It was a full eight seconds, Pope said. "It felt like we were doing a lot of things. She's a pretty small horse and really electric and she bucked hard. I had to sit on the gas pedal the whole time and wait for the buzzer."
A recent graduate of Missouri Valley College in Marshall, Mo., Pope is ranked seventh in the world standings after an outstanding summer. He sat out of rodeo for two months with a fractured L5 vertebrae that pinched a disk, but over the week preceding and following July 4, Cowboy Christmas, won $21,000, and in the month of July, won $50,000.
Pope made a big impression at his first Wrangler National Finals Rodeo last year, finishing as the average champion and third place in the world.
Last year's National Finals was a jumping off point for this year.
"A lot of people didn't know me, going into the Finals last year. I was feeling really going into it, and won the average. I've been building off of that. I took it, built a fire with it, and I've been putting gas on the fire every time I get on."
He loves coming to Kansas Biggest Rodeo.
"You know, everybody's super-excited to see me here. I know quite a few people here. It's my home state and it's a home feeling. It's really different, compared to the other rodeos I go to.
"To win it two years in a row is really exciting. I look forward to coming back next year. I'm dang sure happy to be here."
For the third time in her career in the last twelve months, Hailey Kinsel has made one of the fastest barrel racing runs at a PRCA rodeo on a standard pattern.
And she did it in Phillipsburg, Kansas.
At the 92nd annual Kansas Biggest Rodeo, the Cotulla, Texas cowgirl turned in a time of 16.61 seconds, made the second fastest run on a standard pattern at a regular season rodeo. She set a new arena record in Phillipsburg, and won a Phillipsburg title.
Kinsel made the fastest run at a regular season rodeo last year in Dodge City, Kan. (16.63 seconds), to break the old record of 16.65, set by Ivy Conrado-Saebens in Spanish Fork, Utah.
Kinsel set another record at the 2020 Wrangler National Finals Rodeo in Arlington, Texas with a time of 15.61 seconds in the eighth round, although it is not considered a regular season rodeo.
All three records were aboard her famous mare, DM Sissy Hayday, "Sister," a palomino who was the 2018 WPRA/AQHA Barrel Horse of the Year.
Kinsel is giving Sister some time off. She won Cheyenne Frontier Days on the mare on August 1, but is limiting the horse's runs, to keep her fresh.
She is ranked second in the WPRA world standings, less than $5000 behind the number one barrel racer, Shelley Morgan, so she can afford to run a secondary horse and give Sister a break.
"I was going to see how Cheyenne went," Kinsel said. "It's progressive, and you don't know how many runs you're going to make, or when you'll make them."
She brought Sister back for a run in Phillipsburg for slack on Wednesday night.
"I thought I'd ride Sister at two or three rodeos after Cheyenne went so well. So when I was first out in Phillipsburg, I knew it was a good draw, and I had a feeling she would be feeling good by then. I knew she was ready to make that run at Phillipsburg."
Kinsel left for the summer run the third week of June and Sister has been her horse at nearly every rodeo since then.
"Since I started running her, she's won money in the top five everywhere but two runs. She's been pretty darn perfect."
Perfect is nearly normal for the mount, Kinsel said, but she's also gotten wiser about where she's ridden her.
"I've been better about being smart about where I run her and when to give her a day off when she needs it. A little wisdom is probably helping with that."
The ten-year-old has a champion's personality. "She is incredibly gritty and has some very strong tenacity," Kinsel said. "She's serious about eating and serious about sleeping and serious about getting brushed and scratched. And she's serious about running barrels.
"She rests very well. She's very smart about knowing when to lay down, when to eat, when to drink, and then she's fueled up and ready to go. She loves her job, and that's the fun thing about her."
Sister knows when it's time to compete, too. When she and her rider approach the arena, "she gets this almost eerie-like calm about her, like she knows we're about to go do something very cool."
Kinsel was complimentary of the arena conditions the Phillipsburg rodeo committee provided for the contestants, especially the barrel racers.
"The ground was so good," she said. "That's truly the second fastest run on a standard pattern (after her run at the Wrangler NFR) so kudos to Phillipsburg."
Footing is "incredibly important mostly for safety," the world champion said. "These horses of ours go in running so, so fast and giving their full effort. They trust us to place them on good ground."
Good arena conditions are also important for fairness, she pointed out. "It's crucial. Across the board they may have days where the ground may have more moisture and be more firm. To have a fair rodeo across the board, it's important because we all want a fair shot."
Because of varying sizes of rodeo arenas, barrel patterns can be set up differently, but if the arena is big enough, a WPRA "standard" pattern is set, which is what Phillipsburg's pattern is.
Other champions from this year's rodeo include steer wrestler Stockton Graves, Alva, Okla. (3.2 seconds); team ropers Kaleb Driggers, Stephenville, Texas and Junior Nogueira, Lipan, Texas (3.7 seconds); saddle bronc rider Wade Sundell, Boxholm, Iowa (85.5 points); tie-down roper Marty Yates, Stephenville, Texas (8.1 seconds) and bull rider Sage Kimzey, Salado, Texas (87.5 points).
The 2021 Phillipsburg Rodeo queen was crowned on Thursday. Calie Troyer, North Platte, Nebraska, won the title.
For more information and complete rodeo results, visit www.kansasbiggestrodeo.com.
Final results, Kansas Biggest Rodeo, Phillipsburg, Kansas – August 5-7, 2021
All-around champion: Caleb Smidt, Bellville, Texas -tie-down roping and team roping
Bareback Riding
1. Jesse Pope, Waverly, Kan. 87.5 points on Waverly, Kan. 2. (tie) Kaycee Feild, Genola, Utah and Blaine Kaufman, Pretty Prairie, Kan. 85 each; 4. Garrett Shadbolt, Merriman, Neb. 82.5; 5. (tie) Cole Reiner, Weatherford, Texas and Mark Kreder, Collinsville, Texas 81 each; 7. Zach Hibler, Wheeler, Texas 80; 8. Jayco Roper, Oktaha, Okla. 72.
Steer Wrestling
1. Stockton Graves, Alva, Okla. 3.2 seconds; 2. (tie) Nick Guy, Parker, Colo. and Kyle Irwin, Robertsdale, Ala. 3.4 each; 4. Dakota Eldridge, Reedley, Calif. 3.5; 5. Gus Franzen, Kearney, Neb. 3.8; 6. (tie) Tory Johnson, Oklahoma City, Okla., Laramie Warren, Adair, Okla. and Cody Devers, Balko, Okla. 4.0; 9. (tie) Marc Joiner, Loranger, La.; Cooper Ray Belt, Osawatomie, Kan.; Jeff Miller, Blue Mound, Kan.; Payden McIntyre, Douglas, Wyo.; Kris Rasmussen, Riverdale, Neb., and Hunter Cure, Holliday, Texas 4.1 each.
Team Roping
1. Kaleb Driggers, Stephenville, Texas/Junior Nogueira, Lipan, Texas 3.7 seconds; 2. Tyler Wade, Terrell, Texas/Trey Yates, Pueblo, Colo. 3.8; 3. Tanner Tomlinson, Angleton, Texas/Patrick Smith, Lipan, Texas 4.1; 4. Clay Tryan, Lipan, Texas/Jake Long, Morgan Mill, Texas 4.2; 5. Cory Kidd V, Statesville, N.C./Ryan Motes, Weatherford, Texas 4.3; 6. (tie) Hayes Smith, Central Point, Ore./Justin Davis, Cottonwood, Calif. and Tyler Hobert, Alva, Okla./Chase Boekhaus, Rolla, Kan. 4.4 each; 8. (tie) Paul David Tierney, Oklahoma City, Okla./Tanner Braden, Dewey, Okla. and Garrrett Tonozzi, Lampasas, Texas/TJ Watts, Eads, Colo. 4.5; 10. Caleb Smidt, Bellville, Texas/BJ Dugger, Comfort, Texas 4.7.
Saddle Bronc Riding
1. Wade Sundell, Boxholm, Iowa 85.5 points on Beutler and Son Rodeo's Nutrena's Ole Flame; 2. CoBurn Bradshaw, Milford, Utah 83.5; 3. (tie) Lefty Holman, Visalia, Calif. and Tegan Smith, Winterset, Iowa 82.5 each; 5. Jacobs Crawley, Stephenville, Texas 81.5; 6. Cody Ballard, Alva, Okla. 81; 7. Ty Pope, Marshall, Mo. 77.5; 8. (tie)Logan Cook, Alto, Texas and Q Taylor, Nanton, Alb. 77.
Tie Down Roping
1. Marty Yates, Stephenville, Texas 8.1 seconds; 2. Blake Chauvin, Raceland, La. 8.6; 3. (tie) Caleb Smidt, Bellville, Texas and Shane Hanchey, Sulphur, La. 8.7 each; 5.(tie) Ryan Jarrett, Comanche, Okla. and Ty Kirby, Liberal, Mo. 9.1; 7. (tie) Wyatt Muggli, Lane, Okla. and Westyn Hughes, Caldwell, Texas 9.3 each; 9. Marcos Costa, Iretama, Brazil 9.4; 10. Dawson Turner, Sidney, Ark. 9.6.
Barrel Racing
1. Hailey Kinsel, Cotulla, Texas 16.61 seconds; 2. Tracy Nowlin, Nowata, Okla. 16.77; Jordon Briggs, Chilton, Texas 16.79; 4. Shelley Morgan, Eustace, Texas 16.82; 5. Michelle Darling, Medford, Okla. 16.88; 6. Cheyenne Wimberly, Stephenville, Texas 16.99; 7. Jessica Routier, Buffalo, S.D. 17.01; 8. Stevi Hillman, Weatherford, Texas 17.02; 9. Katie Pascoe, Morro Bay, Calif. 17.03; 10. (tie) Brittany Pozzi Tonozzi, Lampasas, Texas, and Shali Lord, Lamar, Colo. 17.05 each; 12. Tamara Reinhardt, Canadian, Texas 17.08; 13. (tie) Amanda Welsh, Gillette, Wyo. and Leslie Smalygo, Skiatook, Okla. 17.10 each; 15. Jackie Ganter, Abilene, Texas 17.15.
Bull Riding
1. Sage Kimzey, Salado, Texas 87.5 points on Beutler and Son's Redord Rack's Overpass; 2. Shane Proctor, Grand Coulee, Wash. 86; 3. (tie) Braden Richardson, Richwood, Texas and Shawn Bennett Jr., 85.5 each; 5. Shad Winn, Nephi, UT 83.5; 6. (tie) Josh Frost, Randlett, UT and Jesse Hopper, Mangum, Okla. 81.5 each.
** All results are unofficial. For complete results, visit www.prorodeo.com. For more information, visit www.KansasBiggestRodeo.com.
Phillipsburg Rodeo Association, Inc. Stories: (3)