/

/

Doris Stowell (April 05, 1924 - June 11, 2021)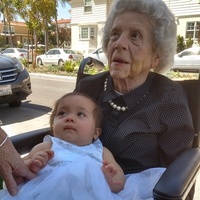 Doris (Dixon) Stowell, daughter of Jay and Marion (Hart) Dixon, was born April 5, 1924 in Herington, Kansas and passed away on June 11, 2021 at the home of her daughter, Susan, in Long Beach, California.
Doris began college at William Woods University in Fulton, Missouri. She then went on to graduate from Kansas University in Lawrence, Kansas with her JD law degree.
While at law school, Doris met her future husband, William Stowell, and the couple was married on May 25, 1946 in the Danforth Chapel on the KU campus in Lawrence, Kansas.
William and Doris made their home in Phillipsburg, Kansas and opened their private law practice. The couple enjoyed many years of helping others through their work and appreciated the relationships developed over time.
On May 25, 2011, Doris and William celebrated their 65th wedding anniversary. Their relationship was built on love and commitment, and grew stronger as they spent the years together, sharing daily life, work, and raising a family. In later years, they also enjoyed the special times spent with their four grandchildren and introducing them to the joys and beauty of Kansas and rural life.
Doris was a member of the United Presbyterian Church and enjoyed many years of worship, music, and volunteering in the church. She was a member of Alpha Chi Omega in college and stayed involved after graduation. Doris was a member of the BE P.E.O. chapter in Phillipsburg and appreciated their mission to support advancement and education of women.
Doris enjoyed her daily life, friendships, reading, gardening, and the comfort of living in a close community where friendly faces and kind words were plentiful. She continued to reap the benefits of life in Phillipsburg, as she was supported through the end of life with phone calls, emails, and letters from her friends back home.
Doris passed away on June 11, 2021 and is now in her heavenly home. She was preceded in death by her parents and her husband William, who died in 2012.
Survivors include her daughters Susan Bittner and husband Tom of Long Beach, CA and Sarah Ruhlen and husband Tom of Sun City West, AZ, her granddaughter Laurel Ruhlen, grandson Jay Bittner, granddaughter Morgan Bittner, grandson Zachary Bittner, and great granddaughter Leila Bittner.
Doris' smile, laughter, and ability to listen and support will be greatly missed by family and friends.
A memorial service will be held Saturday, August 28, 2021 at 2:00 p.m. in the United Presbyterian Church, Phillipsburg, with Pastor Chris Davis officiating.
Memorial contributions may be made to the United Presbyterian Church or Chapter BE P.E.O.
Olliff-Boeve Memorial Chapel, P. O. Box 563, Phillipsburg, KS 67661, is in charge of local arrangements.