/

/

Ruby I. Riemann (January 25, 1933 - September 15, 2021)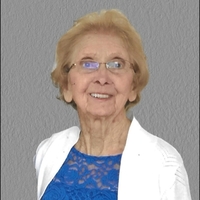 Edmond, KS resident Ruby I. Riemann passed away Wednesday, September 15, 2021 at the Logan Manor in Logan, KS at the age of 88.
She was born January 25, 1933 in Graham Co., KS about 8 miles south of Lenora, the daughter of Ivan and Vera (Hodge) Jones. She began her education in a country school in September 1938 in Goshen School District and then they moved to a farm 4 miles west of Lenora and went to a country school there until the sixth grade when they moved to a farm ½ mile west of Lenora. Ruby finished grade school and went to Lenora High School where she graduated with the class of 1950. She then attended Central College in McPherson, KS for two years and received her teaching certificate in the spring of 1952.
Ruby taught grade school in Edmond for a year, then moved to the country school near Goshen where she taught for 9 years beginning in the fall of 1953 until spring of 1962. She returned to Edmond in 1962 and taught until spring of 1966.
In September 1952, Ruby had her first date with Kenneth Riemann. The couple were engaged on August 11, 1956 and married May 11, 1961 in Logan, KS. To this union their daughter Debra was born. Ruby became a loving wife, mother, and homemaker. Ruby stayed at home to raise their daughter and to help on the farm. Ruby was the truck driver while harvesting the wheat, corn, and milo. She always helped with sorting and moving the cattle and ran many errands, like going for parts and grocery shopping.
Ruby always said the wife never retired, but the couple did rent the farm out in February 2010 and continued to live on the farm, in the house they built together.
She was preceded in death by her parents Ivan and Vera and her siblings: Valera, Dean, Wayne, and Carl Jones.
Survivors include her husband Kenneth of Edmond, KS; daughter Debra Maikell and husband Stephen of Falcon, CO; three grandchildren: Captain Megan Maikell of Albuquerque, NM, Marissa Maikell of Colorado Springs, CO, and Ryan Maikell of Colorado; a brother Glenn Jones and wife Lee of Lenora, KS, and four sisters: Valeta Poage and husband Bill of Colorado Springs, CO, Marilyn Hadley of Almena, KS, June Stockman and husband Keith of Colorado Springs, CO, and Joyce Smith and husband Terry of Colorado Springs, CO.
Funeral services will be at 10:30 a.m. Monday, September 20th at the Logan Christian Church, Logan, KS, with Pastor Troy Buss officiating. The services will be streamed live on the Olliff-Boeve Memorial Chapel Facebook page. Burial will follow in the Mount Calvary Cemetery, Densmore, KS.
Ruby will lie in state from Noon until 8 p.m. Saturday and Sunday at the Logan Funeral Home, Logan, KS where the family will receive friends Sunday afternoon from 4 p.m. until 6 p.m.
Memorial contributions may be made to the Logan Manor.
Logan Funeral Home, 102 E Church St., Logan, KS 67646, is in charge of arrangements.
SERVICES
Visitation
Sunday, September 19, 2021
4:00 PM - 6:00 PM
Logan Funeral Home
102 E. Church Street
Logan, Kansas 67646
Funeral Service
Monday, September 20, 2021
10:30 AM
Logan Christian Church
204 1st Street
Logan, Kansas 67646