/

/

Hansen Museum News (September 20, 2021)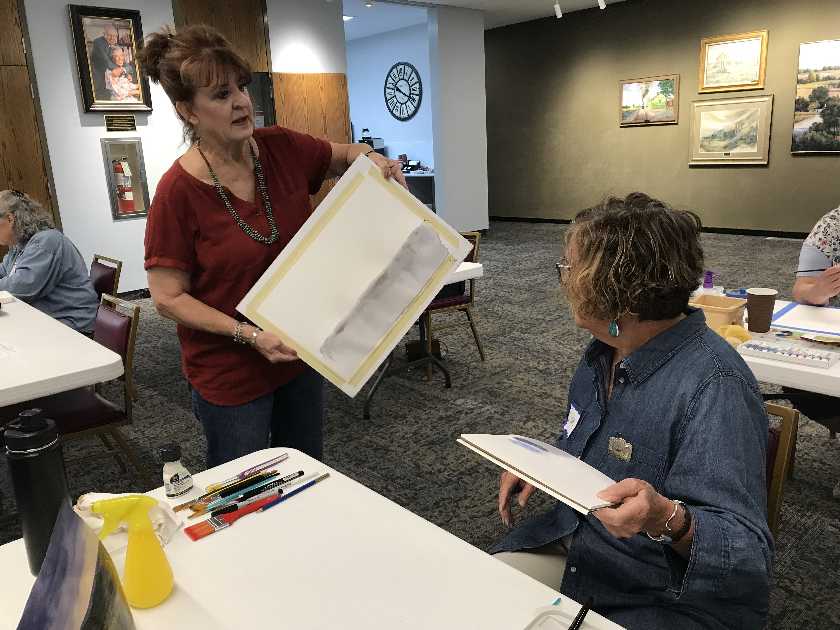 Instructor Laurie Albin (WaKeeney) demonstrates a rolling technique to student Sue George (Hays) during the Albin Watercolor Workshop at the Hansen Museum in Logan.
Painters were elated to dip their brushes with instructor Laurie Albin at the Albin Watercolor Workshop this past Friday and Saturday (September 16th & 17th). Laurie took the first morning to thoroughly review techniques and methods of watercolor painting, guiding her painters in making a legend to use as a reference. Additionally, Laurie spent time reviewing the color wheel to aid participants in understanding the relationship between colors and their values.
Watercolor painting is more difficult to master than other mediums due to its viscosity. The transparent nature of watercolor means that mistakes are not easily covered in successive layers as they are in other mediums such as oil or acrylic painting. Laurie expertly educated the class on these aspects of watercolor painting. Through demonstration, Laurie skillfully navigated the balancing act of controlling and freeing this very fluid medium to obtain a quality painting. This two-day workshop produced some wonderful paintings. The Hansen Museum's Facebook page has some great photos capturing these artists at work. Thank you for the impeccably planned and executed workshop Laurie.
Coming up, the Hansen Museum's Continuing Education Program is offering Quilting Class with instructor Janie Lowry starting September 28th and Joy of Painting Classes with Bob Ross certified instructor Sandra Seamone October 16th and 17th. For cost and other details, see the Hansen Museum Facebook page or visit the Museum's web site www.hansenmuseum.org.
Created to stimulate competitive research, the exhibition "Climate & Energy Central" on display in the Hansen Museum gallery addresses the challenges and rewards of renewable energy and potential climate change. Scientists from Kansas State University, University of Kansas, Wichita State University, Haskell Indian Nations University and the Kansas Experimental Program collaborated to address to the question, "Can we do better?" Large scale graphics, photo murals, and a real section of a center pivot irrigation system are set up in modular displays to explain challenges our planet may have to reckon with in the future.
The primitives in Tom and Mary Ewing's Artist of the Month display have been selling like hot cakes! At the beginning of the month their area was slightly overflowing and now it is looking a little bare. Their fall decorative pillows, animals, pumpkins, and etc. have been a big hit with Museum visitors. There are still some wonderful pieces available, but don't wait too long to come see them.
The Dane G. Hansen Museum is located at 110 W. Main Street, Logan, Kansas. Museum hours are Monday through Friday 9-12 & 1-4; Saturdays 9-12 & 1-5; Sundays & holidays 1-5. We are handicapped accessible and thanks to the generosity of the Dane G. Hansen Foundation, there is never an admission fee. For more information, please call 785-689-4846. We hope to see you at the Museum!