/

/

Phillipsburg High School Volleyball team competes at Great Bend Invite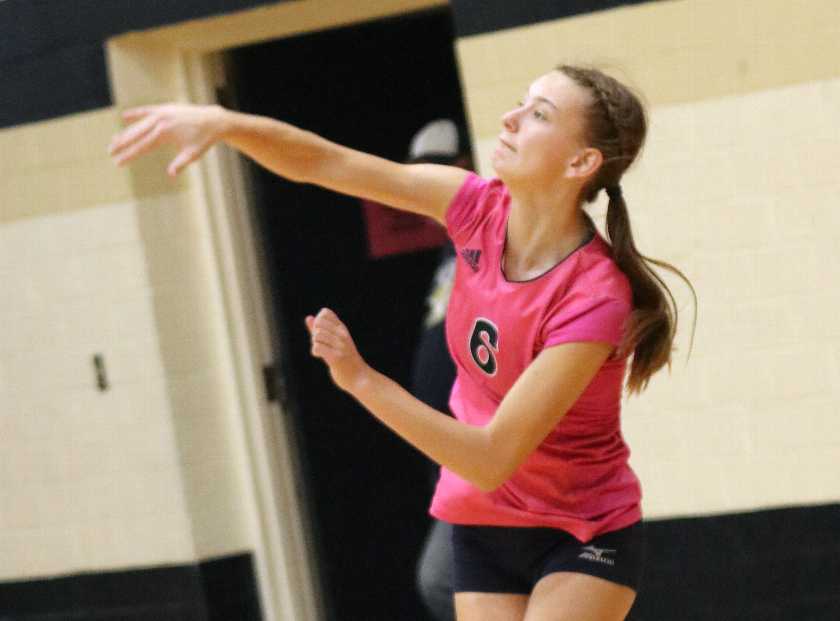 During the TMP matchup at home on Sept. 28, sophomore Caydence Corman serves the ball into play. Photo by Madysen Boydston
On Saturday, Oct. 2, Phillipsburg's volleyball team traveled to Great Bend to participate in the Great Bend tournament. In pool play, the Panthers began the day with Liberal. The Panthers took the Redskins to three sets, but ultimately fell to Liberal 22-25, 25-23, and 24-26. The second matchup in pool play put the Panthers against the Hutchinson Salthawks, a state-ranked team. The Panthers were defeated in two sets 14-25, 15-25. The final pool play game was against the Hays Indians. The Panthers earned their first win on the day by defeating the Indians 25-13, 24-26, 25-121. The Panthers finished third in their pool and advanced to the silver bracket.
In bracket play, the Panthers faced the Salina Central Mustangs in the first round. The Panthers defeated the Mustangs 25-21, 25-23. In the Silver champioship, the Panthers faced the Ulysses Tigers. The Panthers fell to the Tigers 17-25, 19-25.
On Tuesday, Oct. 5, the Panthers traveled to Hays for a rematch against Hays and Liberal in a triangular. In JV action, the Panthers were defeated by Liberal 19-25, 15-25. In the final match of the evening, the Panthers faced the Hays Indians. The Indians came out victorious as they beat the Panthers 12-25, 15-25. In varsity actions, the Panthers suffered two losses as they fell to Liberal 29-31, 17-25 and Hays 25-13, 23-25, 14-25.
The Panthers will travel to Wakeeney on Thursday, Oct. 7 to face the Trego Eagles and the Hoxie Indians.