/

/

PHS Video Team crowned Grand Champions at State Fair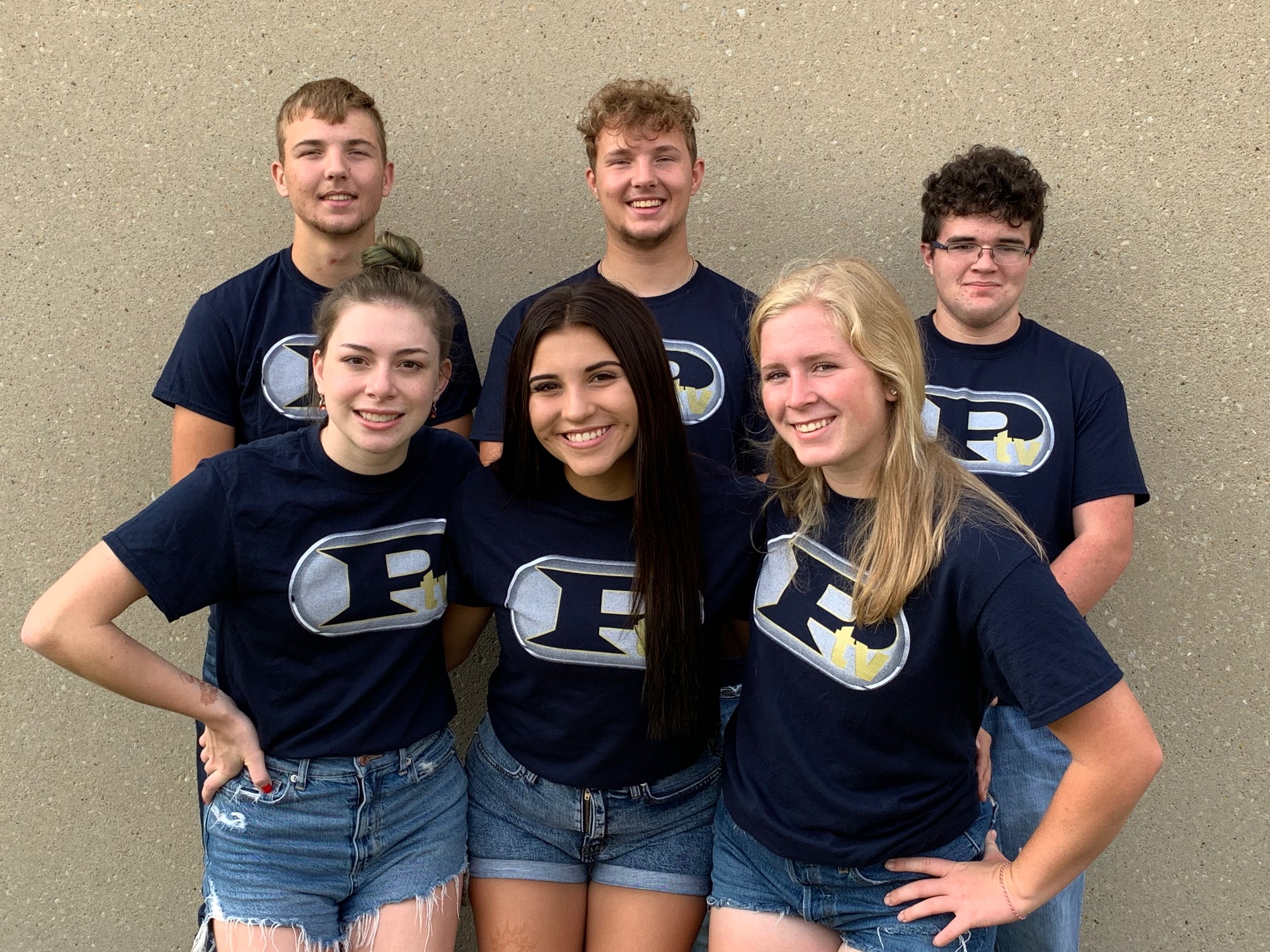 Back row, left to right--Joel Ford, Jeremy Ford, and Luke Hoover. Front row--Sophie Imm, Erin Johnson, and Liz Sauer
The long-awaited results of the Scholastic Press Corp video competition on this year's Kansas State Fair are finally in. The Phillipsburg High School video team of Joel Ford, Jeremy Ford, Sophie Imm, Erin Johnson, Liz Sauer, and alternate Luke Hoover were crowned Grand Champions for the newscast they created at the Kansas State Fair.
On September 13, the PHS students along with their teacher Kim Pakkebier attended the 2021 State Fair ready to compete. The competition started at 9am, and students were tasked with creating a newscast that included an introduction, anchors, an assigned lead story, an assigned agricultural story, and an additional story of the team's choice. Students had to write, film, interview, and edit the individual segments, and then they had to edit all the segments together to create the show. The final project had to be submitted by 6pm that day.
The lead story assigned to PHS was to cover the Kansas Highway Patrol's role at the fair. Jeremy and Joel Ford took the lead on that story. It wasn't an easy task to track down the patrolment as they zoomed by on their golf carts, but eventually the Ford brothers caught up with them to interview and film them. Their final story package was also crowned Grand Champion as the best lead story out of all the entries.
The agriculture story assigned to PHS was to cover "poulty," Sophie Imm and Erin Johnson teamed together to create an angle that would make a variety of birds stuck in cages during the fair and interesting story. They found a way, and their story also received the Grand Champion award.
The third story chosen by PHS students was to cover what children can learn at the fair. Liz Sauer created that story and received near perfect scores. Although, the third story doesn't receive individual recognition (for any of the schools), Liz's contribution to the newscast helped propel the video team to the overall first place finish.
Helping the segments flow together in the newscast, Jeremy Ford and Erin Johnson were the anchors who gave visual and verbal transitions throughout the show.
Although PHS had attended this competition in earlier years, they had not attended in the last two years due to schedule conflicts and Covid. For each PHS video student, this was their first competition at the State Fair.
"I'm super proud of these students. None of them had any prior experience competing at the Fair, but they handled all the obstacles and challenges they faced so well. To earn three Grand Champion prizes from this competition is amazing," Pakkebier said. "What makes this even more amazing is that we were competing with schools--most of them much larger than Phillipsburg--from all over the state. I think we represented Phillipsburg quite well."