/

/

PHS seniors attend STEM Day at Barton Community College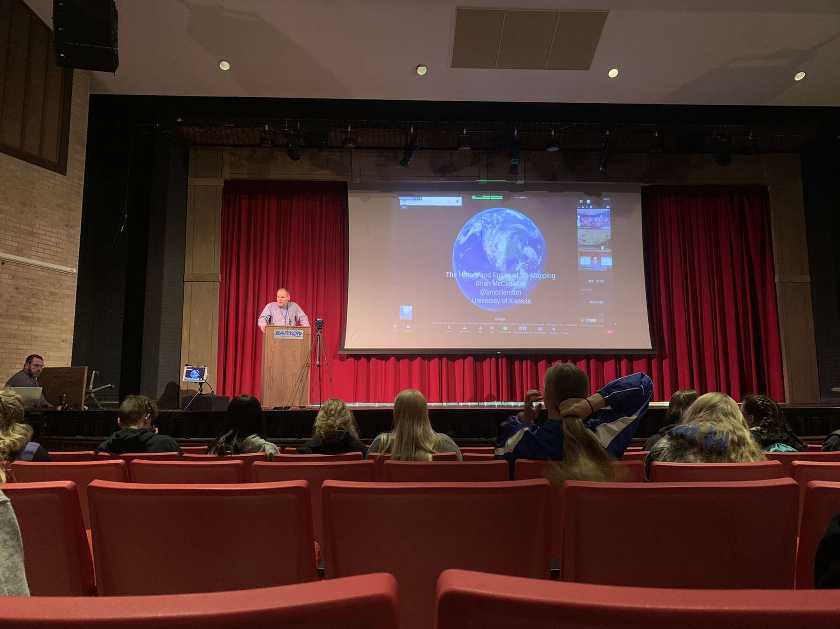 During a STEM breakout session, participants were able to Zoom with Brian McClendon, the creator of Google Earth.
On Monday, Nov. 22, the calculus and physics classes, as well as, some students from the college biology class traveled to Barton Community College in Great Bend for STEM Day, which they have been hosting for 17 years. Students participated in a variety of breakout sessions such as "Take the Pepsi Challenge," "Identifying, Collecting and Analyzing Blood in a Crime Scene" and "Shine in the Dark – Long-Exposure Photography." Each student chose two sessions in which to participate.
Calculus teacher Rachel Miller took seniors Brock Buresh, Emilee Cole, Gracie Jessup, Theo Keesee and Eric Moon to participate on the math side. Buresh, Keesee and Moon participated in the Math Bowl and placed second as a team. The team each won a scientific calculator which they were awarded at the end of the activities.
Science teacher Dani Suchsland took seniors Madysen Boydston, Corinne Cole, Joel Ford, Trevor Johnson and Jayden Minkler for a total of ten students participating in STEM Day.
There was not a competition for science so each student that did not participate in the Math Bowl was able to attend a different session during the Math Bowl.
For the seminar, the students Zoomed with Brian McClendon, creator of Google Earth and were able to learn how he created it and how it became so accurate.
"Being able to attend this STEM day was a good opportunity for my classmates and I. I was able to pick sessions that relate to my majors or general interest and learn more about those topics," Boydston said.