/

/

Hansen Museum News (December 20, 2021)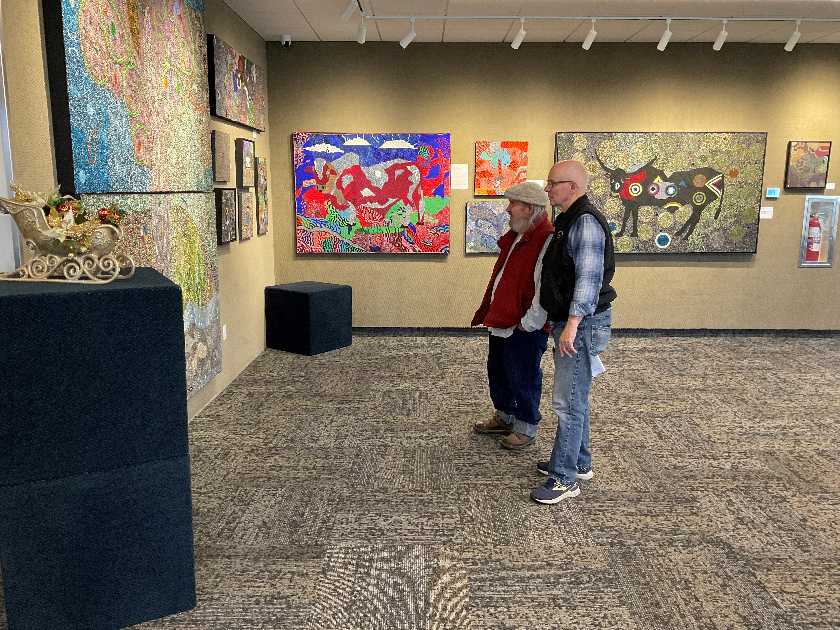 Morris Engle, Phillipsburg and Jim Adams of Hoxie admire the "Tree of Life" in the Ubuhle Women: Beadwork and the Art of Independence exhibition on display at the Hansen Museum in Logan.
Decking the halls and filling the 2022 calendar have been the order of business here at the Museum. The Christmas tree looks absolutely beautiful – the tree itself is worth a visit to the Museum. All the lights and glimmer of the decorations go perfectly with the Ubuhle Women: Beadwork and the Art of Independence exhibition. Between the Christmas tree and the glistening beaded panels, the whole gallery shimmers like a winter wonderland.
Soon Hansen Museum members will be receiving their "Looking into 2022" informational flyer. This brochure highlights special events, continuing education classes, and exhibits we have scheduled for the upcoming year. If you are not a museum member and would like information about upcoming events or membership, please contact the Museum at 785.689.4846 or email us at director@hansenmuseum.org.
Dance class kicks off the Museum's 2022 Continuing Education schedule. Starting January 9th, Kerry and Dezi Ferguson will teach beginner and advanced learners steps such as the two-step, east coast and west coast swing, cha cha, polka, waltz, etc. Dance class is a tremendous value, entertaining, and an awesome opportunity to meet new friends or spend quality time with one of your favorites. Need registration information? Call 785-689-4846, check out the Hansen Museum's Facebook page, or download a form at www.hansenmusuem.org.
Need an affordable (free) outing to impress your holiday guests? If so, we have just the ticket…bring them to the Hansen Museum to see the world-class exhibition Ubuhle Women: Beadwork and the Art of Independence. This is an amazing display of artwork created by a group of South African women and developed by the Smithsonian Anacostia Community Museum in Washington, DC. The Hansen Museum will be open until noon on Christmas Eve, closed Christmas Day, and resume normal business hours on Sunday, December 26th.
The Hansen Museum is located at 110 W. Main Street, Logan, Kansas. Museum hours are Monday through Friday 9-12 & 1-4; Saturdays 9-12 & 1-5; Sundays 1-5. We are handicapped accessible and thanks to the generosity of the Dane G. Hansen Foundation, there is never an admission fee. For more information, please call 785-689-4846. We hope to see you at the Museum!