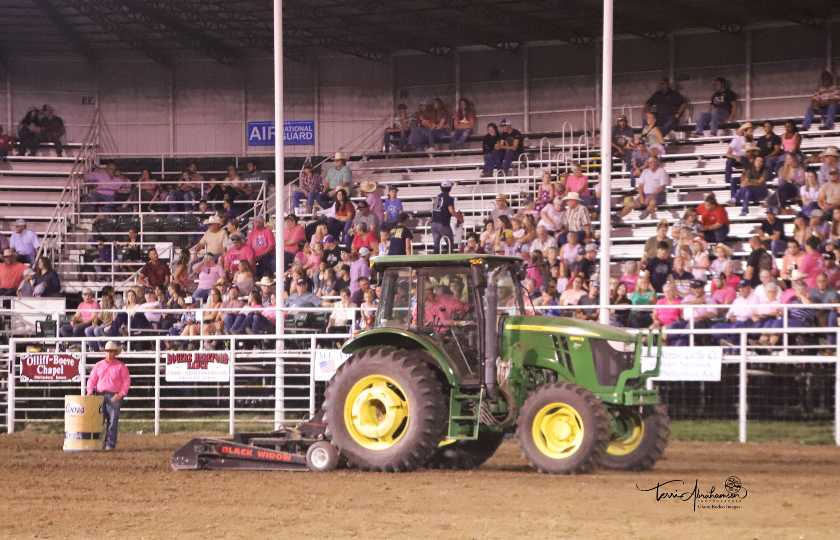 Kansas Biggest Rodeo committeeman Ricky Solida works the ground at the Phillipsburg rodeo, in an effort to make the ground conditions as safe and quality as possible for rodeo competition, especially for the barrel racing. The Phillipsburg rodeo won
Phillipsburg, Kan. (December 20, 2021) – Kansas Biggest Rodeo in Phillipsburg has won first place in the Women's Pro Rodeo Association's Justin Boots Best Footing Awards.
Phillipsburg rodeo wins award for best ground conditions
The award is given to rodeo committees in each of the twelve PRCA circuits that go above and beyond to ensure safe ground for the animal athletes of rodeo, specifically the barrel racing horses.
The award recognizes the hard work and time rodeo committees put into making their ground as safe as possible.
For the Prairie Circuit, the states of Kansas, Nebraska and Oklahoma, the Phillipsburg rodeo won first place; the Jim Shoulders Living Legends Rodeo, Henryetta, Okla., won second; the Frontier Days PRCA Rodeo, Abbyville, Kan., won third and the Wild Bill Hickok Rodeo in Abilene, Kan., won Most Improved.
Rodeo committee member Ricky Solida is responsible for the arena conditions at the rodeo and spends many hours prior to, during and after each performance, making sure the ground is suitable for competition.
Solida said the importance of good ground is not only for the safety of the horses and riders, but for a level playing field, too. Arena conditions, as much as possible, "need to be consistent for the barrel racers every night. It gives somebody a chance to win every night of the rodeo." If the ground isn't consistent, one performance where the ground might be better would give barrel racers an advantage that night.
At this year's rodeo, the ground around the barrels was raked after six competitors, which also helps with the quality of ground conditions.
At the 2021 rodeo, the barrel racing champion, Hailey Kinsel of Cotulla, Texas, made the unofficial second fastest run ever made on a standard barrel pattern with a time of 16.61 seconds. The unofficial world's fastest time was set by Kinsel in the eighth round of the 2020 National Finals Rodeo (16.56 seconds); Kinsel also holds the third fastest time, set in Dodge City, Kansas, in 2020 (16.63 seconds.)
The 2022 Phillipsburg Rodeo takes place August 4-5-6. For more information, visit the website at KansasBiggestRodeo.com.
Phillipsburg Rodeo Association, Inc. Stories: (3)