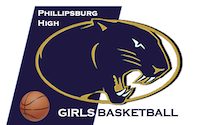 The Phillipsburg Lady Panthers headed to Wakeeney on Tuesday, Jan. 11 to face the 6-1 Lady Eagles in a matchup with significant MCL tournament seeding implications.
The Panthers would strike first in the competition when freshman Brynn Billings hauled in her own rebound for a put back in the first minute of the game. The Panthers continued to attack the boards throughout the competition for a total of 32 rebounds in the 59-34 win over the Eagles.
The Panthers went on the offensive attack early in the game and finished the first quarter with a 22-10 lead. The second quarter saw more balanced scoring as both teams put up nine points, resulting in the Panthers leading 31-19 at the half. The second half brought consistency in scoring for the Panthers as they tallied 14 more points in both the third and fourth quarters, while holding the Eagles to 15 combined points.
Leading the way for the Panthers was junior Taryn Sides with 29 followed by freshman Brynn Billings with 9. Sides also led the way in rebounds with nine, steals with five and assists with six. Senior Abby Babcock added six points, seven solid defensive rebounds, one steal and two assists.
The win seeded the Panthers at number two spot in the MCL tournament that begins next week. The Panthers will host Norton on Friday, Jan. 14 in another MCL matchup.