/

/

Doreen L. Hoffman (April 14, 1942 - January 22, 20)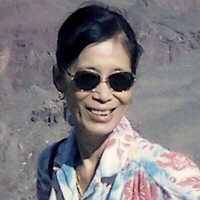 Doreen Chong Ah Fah, Lim, Legg, Hoffman was born in a jungle house outside of Kuching, East Malaysia est. April 14, 1942. Due to the Japanese occupation of Malaysia, records were chaotic and her exact DOB was adjusted to ensure she could have British citizenship to provide an advantage for her future.
Ethnically Chinese, she had a fraternal twin brother and multiple older brothers. Doreen's biological mother chose to give her away to an Iban (a tribe that lives on the Island of Borneo) native lady who could not have children. That lady also adopted a son of one of her husband's brothers, a very common practice then, affording Doreen an adopted brother named Lim Ah Boo. They were raised as Christians and baptized in the Anglican Church. Her adopted mother worked as a cook at St. Mary's Boarding school in Kuching, affording Doreen the opportunity to attend a good school. Later Doreen attended Nursing school in Kuching and graduated with high marks to become a SRN (a State Registered Nurse, the highest designation in Malaysia) and a nurse midwife. Being a midwife was her favorite part of nursing.
She met and married Earl Wayne Legg on 14 Dec 1965 while he was in Malaysia teaching English in the Dragon School for the Peace Corps. They lived in Singapore, and Hawaii where one and only daughter Laura Kim Abts was born. Later they lived in several places in US, including Kansas. When Doreen came to the US, she had all the training she needed except for Psychology which was not part of the curriculum in Malaysia. After studying this, she took her boards and with ease passed them with a 98%. She had remarked in the past that she had a "very good memory" (eidetic) which made studying very easy. While living in Norton, Kansas, during the year of the US Bicentennial, 1976, Doreen met all requirements to become a naturalized citizen of the United States.
She married her second husband John Hoffman 27 May 1980 in Norton, Kansas. John was also a RN and together they had many nursing assignments together to include in Osawatomie, KS, and the last place of practice being Larned, KS in Psychiatric nursing. They made several trips together back to Malaysia, where John remarked he fell in love with the food.
Doreen's greatest love was reading a good book.
Doreen died of complications from a suspected bone cancer on Saturday, January 22, 2022 at her home in Phillipsburg, KS at the age of 79.
She is survived by her husband John Hoffman, RN ret, daughter Kim Abts MD, Lt. Col USAF (ret) (and her husband Dan Abts), and three Grandchildren Trevor, Sarah, and Tyler Abts.
The funeral will be a private family function on Monday, January 24, 2022.
Doreen suffered in her later years with progressively severe OCD. A trait that helped her be one of the best nurses ever, became a millstone. She is free now. In lieu of flowers or donations, intervene in the life of a family member or friend that may have become more reclusive. Your timely intervention can make a difference.