/

/

Hansen Foundation announces commitment to fund LIFE center.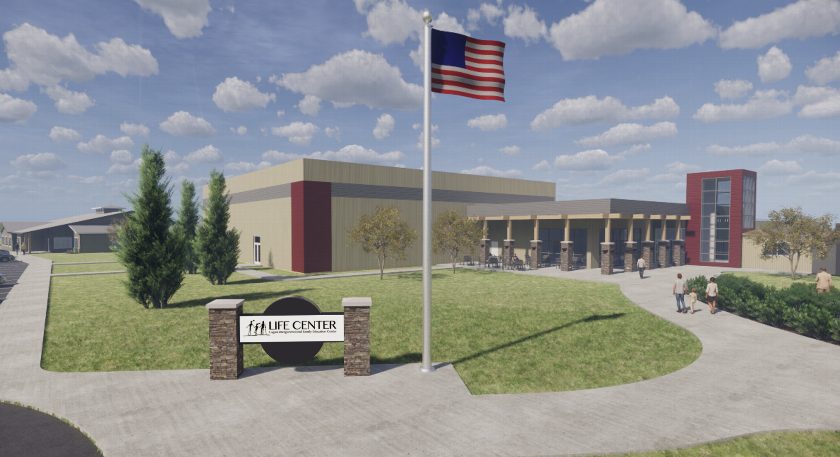 Funding for the Logan Intergenerational Family Education (LIFE) Center in Logan, Kansas, is in place, and construction may begin as soon as next fall according to an announcement made by the Dane G. Hansen Foundation.
According to loganlifecenter.com, "The Logan Intergenerational Facility is a unique conceptual idea that will integrate several community facilities into one structure. The basic elements of this facility would include a new 36-bed nursing home facility based on the modern, person centered, small house design concept, a new Pre-k through 4th grade elementary school, a new accommodating gymnasium with associated locker room complex (which would also serve as a community storm shelter), a weight room and wellness facility which would be open and available to the public, a community room and gathering place, and a small theater room holding up to approximately 50 patrons.
"The new Intergenerational Center will be located north of the existing high school building, and will be connected to the existing high school via a climate-controlled indoor corridor. All elements of the facility will be interconnected allowing residents from the nursing home to visit and participate in the preschool through 4th grade classrooms, attend ball games, practices, and other school functions."
Fundraising has been ongoing since the project was first announced in 2019 with the initial agreement being that the Hansen Foundation would fund half ($7.5 million) of the estimated $15 million project. The remaining half would be raised locally and from other sources. With the complications that the pandemic has added plus the continued deterioration of the current buildings, the Hansen foundation has decided to drastically alter those plans.
Dane G. Hansen Foundation Trustee Brien Stockman said, "Our foundation decided that we don't want to wait anymore, so we have committed to funding the bulk of the construction cost. We've asked the community to maintain its local one million dollar fundraising goal, but other than that our foundation is committed to seeing this happen in Mr. Hansen's hometown."
Construction costs since the initial estimates have increased, and the project is now forecasted to cost $18 million. Once documents are finalized, it's possible that groundbreaking could start as early as late fall, but several variables still play a factor in that process.
Trustee member Brien Stockman joined Logan Principal Dave Kirkendahl and Logan Manor administrator Teresa McComb on the Tadpoll show to discuss more about the funding and upcoming plans. To view that video, click here. The interview begins at 37:52 on the show.
For more information about the LIFE center, visit their site.
Dane G Hansen Foundation Stories: (3)