/

/

Elva Lois Haugh (April 16, 1925 - March 1, 2022)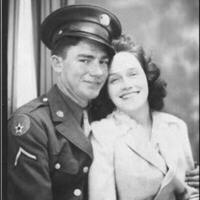 Elva Lois (Hammack) Haugh died on March 1, 2022 at the age of 96. She was born April 16, 1925, in Mayfield, OK, the eldest child of Odia Leroy Hammack, Sr, and Tressie Edna (England) Hammack. Lois died at the Phillips County Hospital in Phillipsburg, KS, but was very proud to be an Arizonan since the age of ten.
Lois' family lived out on the Arizona desert near Coolidge and Florence, Arizona. On August 22, 1942, at the age of 17 she married 19 year old Robert Earnest Haugh, Jr, in a ceremony in Douglas, Arizona. To this union was born their only child, Roberta Louise Haugh.
Lois and Bob, along with Roberta, lived various places in Arizona. Lois and Roberta were Bob's companions on many hunting, fishing, and camping trips. Lois and Bob were married 65 years until Bob's death in 2007.
Lois was predeceased by her parents, her husband, Bob, and her brother Odia Leroy Hammack, Jr, who died in childhood and was known to Lois as "Little Peachy."
Survivors include her daughter, Roberta (Haugh) Bennight, and her husband, Benny Bennight; her grandson Robert Lee Bennight, and his wife, Kathryn Whitney; and her great-grandson, Benjamin Bennight. All live in Phillipsburg, KS.
Lois loved God and her family. She is responsible for many good memories across multiple generations. She will be greatly missed.
Lois will be buried beside her beloved Bob and other family at Valley Memorial Park in Coolidge, Arizona, which was first leveled by Lois' father.
The family will receive friends from 6:00 to 8:00 p.m. Saturday March 5 at the Olliff-Boeve Memorial Chapel, Phillipsburg. Memorial contributions may be made to the Phillips County Hospital.
SERVICES
Visitation
Saturday, March 5, 2022
6:00 PM - 8:00 PM
Olliff-Boeve Memorial Chapel
1115 2nd Street
Phillipsburg, Kansas 67661