/

/

KWEC providing spring break activities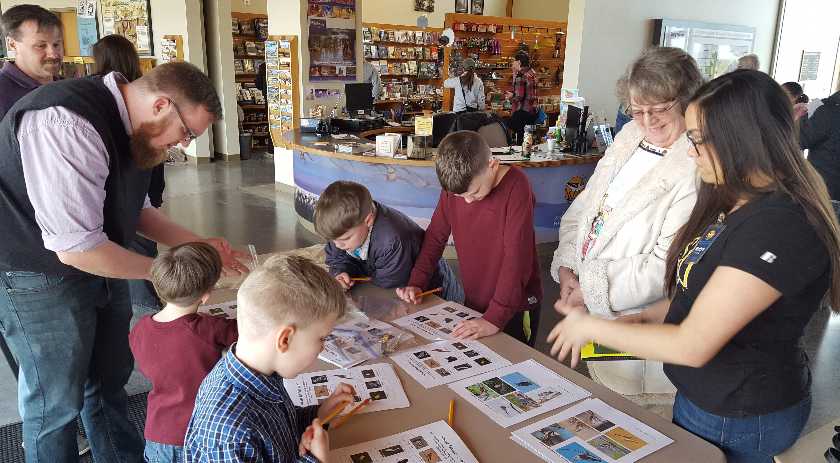 HAYS, Kan. – Fort Hays State University's Kansas Wetlands Education Center (KWEC) will host a variety of free daily activities during spring break later this month, providing a chance for people to get out and explore the diversity of the wetlands.
FHSU graduate assistants will lead the activities from noon to 4:30 p.m. each day. The event is informal, come-and-go, and no registration is required. After enjoying the hands-on activities, visitors can check out the center's interactive exhibit hall, classroom with live animals, 16-minute video about Cheyenne Bottoms, and walk the nature trail. They can grab a map and take a self-guided tour of the marsh. Those who can't attend in person can watch a Facebook Live program at 10 a.m. each day. Follow @wetlandscenter for a story and demonstration of the afternoon activity.
Following is a synopsis of each day's activities.
Monday, March 14 – Plants play a crucial role in the habitat of Cheyenne Bottoms. Come and explore all things plants as we learn about each of the six parts of a plant, dissect a flower, marvel at how a stem transports food and liquids, and make and take a unique garden monster you can watch grow before your eyes.
Tuesday, March 15 – Come and take a deep dive into one of the ways scientists think Cheyenne Bottoms was formed. Build a small sinkhole and see how a wetland acts as a natural water filter for many contaminants and pollutants.
Wednesday, March 16 – Cheyenne Bottoms has always been a place full of incredible diversity, especially with our familiar flapping friends. Birds of different shapes, sizes, and sounds can be found all over. But have you ever wondered why the many different birds have different types of beaks? Come and see just how each bird relies on its beak as you experience how they work with their natural tools. Leave with a gift for your feathery fellows back home: custom feeders, easy to make, that you can hang up in your own yard.
Thursday, March 17 – Do you ever wonder what animals are thinking? A majority of their decisions are based on behaviors that suit their different lifestyles. Come and learn about the ways reptiles think and perceive the world as we make beaded reptile keychains you can take home.
Friday, March 18 – Slither on down to the KWEC to experience the snakes that call Kansas home. Create and decorate your own paper snake while learning about how snakes grow, and take part in a fun interactive activity to understand how snakes find food and navigate the world around them! Check out real snake skins, a snake skeleton, and even a live snake as you learn more about these wonderful, wiggly reptiles.
The spring break fun doesn't stop there. Start your break at 3 p.m. Friday, March 11, with our monthly WILD club activity for school-age kids. District KDWP Wildlife Biologist James Svaty will be on hand to talk about fur-bearing animals and fur harvesting. He will bring different types of traps and teach how to set them. He will also have a collection of skins and skulls, and we will go hiking in pursuit of tracks and other signs of wildlife.
At 10 a.m. Saturday, March 12, join KWEC Director Curtis Wolf for a Birdwatching 101 class – open to people of all ages. On Saturday, March 19, meet at the center at 1 p.m. for a caravan tour of Cheyenne Bottoms. Hop in our van, or follow in your vehicle to check out what birds are present in the wetlands. On both Sundays of spring break (March 13 and 20), books about reptiles will be available in the classroom, and we encourage kids to come and "Read to a Reptile" anytime from 1 to 5 p.m.
KWEC is located at Cheyenne Bottoms, 10 miles northeast of Great Bend on K-156 Highway. For more information, call 877-243-9268 or visit wetlandscenter.fhsu.edu.