/

/

Beulah Fay Vahle (December 18, 1941 - March 10, 2022)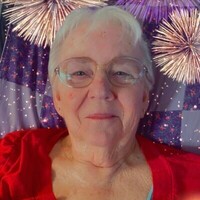 Beulah Fay Vahle passed away Thursday, March 10, 2022 at the Phillips County Hospital, Phillipsburg, at the age of 80.
She was born December 18, 1941 the 4th child of Elisha F. and Mayme Beulah (Picroux) Courtain at Almena, KS.
She lost her mother when she was 2 years old and spent 2 years in the Holdrege Children Orphanage, then her sister and her spent 2 years living with their only Grandmother. She attended 1st grade in Almena before they went to the farm near Precept, NE to live with their Dad. She attended 3 country schools, and then they made their home in Oxford, NE from 5th grade to her freshman year. She lost her dad at age 11. An Aunt kept her until her 2nd year in high school, and then went to live with her sister.
At 16 she met the love of her life Donald D. Vahle. They were married at Stamford, NE in the Lutheran Church on August 3, 1958. To this union 3 daughters were born: LaDonna, Linette, and Jonah.
She and Donald were baptized on November 28, 1976 at the United Methodist Church in Long Island, KS. They had 53 years of marriage before Donald passed away on August 30, 2011.
She was preceded in death by her parents; her husband; her 3rd daughter Jonah Kay Vahle; 2 brothers Fred and Herbert Courtain; a sister Hazel Gimeson; a granddaughter Maranda Lynn Kester; her in-law's George and Gertrude Vahle; sister's-in-law Jean Nyland and her husband John, JoAnne Fruhling and husband Lloyde, and Sandra Jean Fruhling; and brother's-in-law George Vahle, Jr. Darrell Vahle and his wife Barbara, and Virgil Anderson.
She leaves to mourn her passing 2 daughters LaDonna Hilburn and husband Kevin and Linette Vahle and husband Ted Aregi all of Long Island, KS; 6 grandchildren Chyann Hilburn and husband Todd, Tressie McReynolds and husband Darwin, Cody Hilburn and wife Kara, Kolton Hilburn, DaKota Hilburn and boyfriend Tyler Bohl, Randal West and wife Angie; 17 great grandchildren MaKayla Hilburn, Lexi Hilburn, Chelsi Muleski and husband Mark, Ashly McReynolds and husband Zach, Tyler McReynolds, Hayleigh Vahle and Ryan, Briley Hulen and Daniel, Nyla Salinas, Prestyn Hilburn, Parker Hilburn, Pierce Hilburn, Harley Kester, Sierra Kester, Eli Foote, Kaden Foote, Riley West, and Adam West; 7 great great grandchildren Temperance McReynolds, Rylee Gimeson, Elisha Eck, Jaxtyn Eck, Nadia Lentz, Ashton Lentz, and Baby Muleski; and a sister's-in-law Marilyn Anderson of Kearney, NE and Janice Vahle of Phillipsburg.
Funeral services will be held at 11:00 a.m. Tuesday, March 15th at the Long Island United Methodist Church, Long Island, Kansas with Pastor Ted Stapleton officiating. Burial will follow in the Long Island Cemetery.
Mrs. Vahle will lie in state from 5 p.m. to 9 p.m. Sunday and Monday at the Olliff-Boeve Memorial Chapel, Phillipsburg, with the family receiving friends Monday evening from 6 p.m. to 8 p.m. for visitation.
Memorial contributions may be made to the Long Island Library or for the Phillips County Hospital Family Room.