/

/

Cecil A. Thomas (August 5, 1934 - March 28, 2022)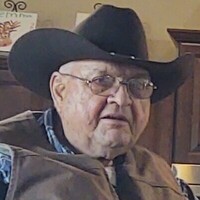 Cecil Alvin Thomas was born in Smith County, Kansas on August 5, 1934, to Clarence W. and Ruth (Weskamp)Thomas, the second oldest of six children. He departed this life on Monday, March 28, 2022 at the Good Samaritan Society in Alma, NE at the age of 87.
Cecil attended school in rural Smith County and Naponee, NE where he graduated in 1952. As a young adult, Cecil would travel to Estes Park, CO to work on dude ranches as a hunting and trail guide. He enjoyed taking American and International visitors into the mountains and singing cowboy songs and accompanying on the guitar while the campfire crackled. He liked to brag about having taken Marilyn Monroe for a horse ride. It was while working for these ranches that he met his future wife.
He married Clella Hart on September 9, 1954. They raised four sons. The couple resided in Fairbury, NE for a short time and moved to Strasburg, CO to work for the Ferguson Ranch until 1967. After a short stint at a ranch in Deer Trail, CO, the family moved to the Davis Ranch at Cedar Bluff Reservoir in KS where Cecil was the manager at the feedlot. In 1972, Cecil purchased their home north of Agra, KS where he resided until his recent illness. Cecil worked for years as a school bus driver, taking on the extra hours so he could watch his sons at their various extra-curricular activities. He loved working with his cattle and horses and enjoyed farming, ranching, hunting and fishing. Cecil worked for many years for Wyrill Farms in Kirwin. He was a 30+ year member of the American Quarter Horse Association and a 58 year member of the Byers Masonic Lodge # 152 AF and AM.
Cecil was preceded in death by his parents, his wife in July 2004, brothers Ernest and LeRoy, sister Bonnie (Keeten), special friend Betty McGraw, grandson Jason Thomas and great-grandsons Dante Thomas and Marshal Thomas.
He is survived by his sister, Grace Dierking of Red Cloud, NE; brother Seth (Martina) Thomas of Naponee, NE; sister-in-law, Jan Thomas of Franklin, NE; sons, Cecil Jr (Sandy) of Big Timber, MT; Dean (Sally) of Phillipsburg, KS; Tommy (Connie) of Lindsborg, KS and Eddie (Kelly) of Glade, KS; 10 grandchildren, 20 great-grandchildren, numerous nieces, nephews and his many friends.
Funeral services will be held at 10:30 a.m. Saturday, April 2, 2022 in the Olliff-Boeve Memorial Chapel, Phillipsburg, with Pastor Jay Brandon officiating. The services will be streamed live on the Olliff-Boeve Memorial Chapel Facebook page. Burial will follow in the West Cedar Cemetery, Phillips County, KS.
Mr. Thomas will lie in state from 5 p.m. to 9 p.m. on Thursday and 9 a.m. to 9 p.m. on Friday at the funeral chapel.
Memorial contributions may be made to the Johnson Cancer Research Center.
SERVICES
Funeral Service
Saturday, April 2, 2022
10:30 AM
Olliff-Boeve Memorial Chapel
1115 2nd Street
Phillipsburg, Kansas 67661