/

/

Twins double their pleasure as Rudd Scholars at FHSU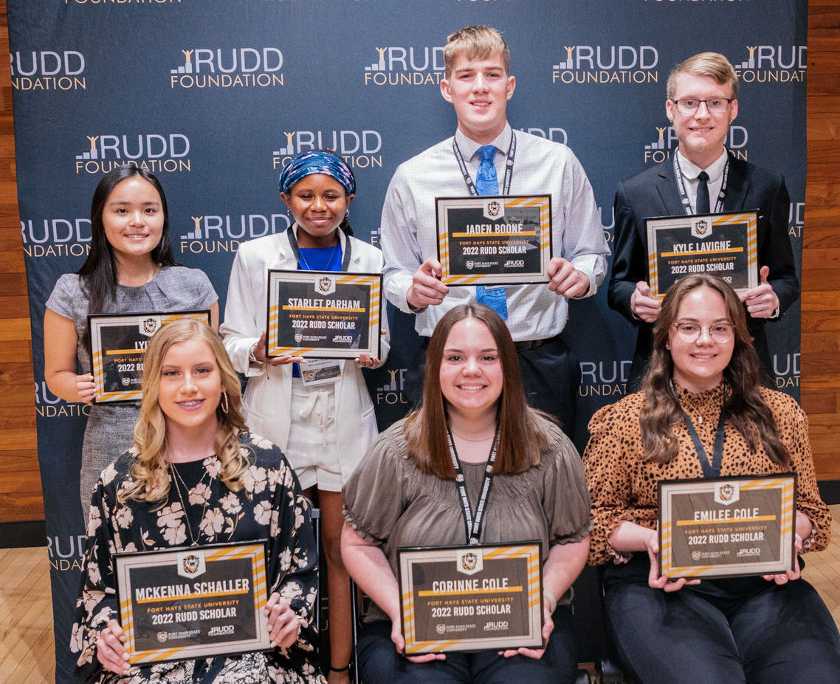 The class of Rudd Scholars at Fort Hays State for 2022 are: back row from left, Lyly Le, Wichita; Starlet Parham, Salina; and Jaden Boone, Quinter; front row from left, McKenna Schaller, Kinsley; Corinne Cole, Phillipsburg; and Emilee Cole, Phillipsb
HAYS, Kan. – It's not often that two members of the same family receive full-ride scholarships to the college of their choice in the same year, much less the same day.
Two Kansas families received that good news earlier this month when their sets of twins learned they were all receiving Rudd Scholarships for the 2022-23 school year.
Emilee and Corinne Cole from Philipsburg were honored at a Tuesday luncheon as two of seven new Rudd Scholars at Fort Hays State University. Part of that group was Kyle Lavigne from Ulysses. Kyle's brother, Jace, will use his scholarship at Wichita State University, which is also part of the Rudd Scholarship program along with Emporia State University.
This year's class of 30, which all receive full-ride scholarships, was selected from a strong candidate pool of nearly 1,000 students. The expected value for those new recipients over four years is approximately $1.2 million.
When the Roberts sisters learned they had made the final cut, they both agreed to become part of Tiger Nation – and join their older sister, Ashlyn, in Hays. Ashlyn is a junior at FHSU, where she is majoring in medical diagnostic imaging.
"FHSU was close to home, and I liked the personal environment," said Corinne, who plans to major in health and human performance. "Hays and Fort Hays State have a small-town feel, which I like because we're from a small town."
Emilee agreed.
"We never really planned to go to the same college, but we had some other friends who have gone here so we both visited," said Emilee, who plans to major in biology. "The campus is so clean and welcoming."
The Lavigne brothers have similar majors – Kyle will study computer science and Jace, computer engineering – but decided to strike out on their own in college.
"I've been known as a twin my entire life, so I wanted to go a different direction," Kyle said. "Before I knew I got this scholarship, I was already looking at Fort Hays State because of the budget aspect - it's so affordable. I am really looking forward to it."
All incoming, full-time freshman students from Kansas who qualify for Pell Grants are eligible to apply for the scholarship from the Rudd Foundation.
Rudd Scholarship recipients are selected after a rigorous application process that includes grades, test scores, activities, essays, and letters of recommendation. The application list is pared to 50 finalists, who all interview with the scholarship committee, and from which the final 30 recipients are chosen. Seven of those will attend FHSU, seven scholars will attend Emporia State, and 16 will enroll at Wichita State.
This marks the fifth year of the program, which has offered 111 scholarships that amount to approximately $5 million.
The scholarships cover any costs remaining after all other aid, grants, and scholarships are applied to a student's account. Cost of attendance includes tuition, fees, supplies, and room and board. Preference is given to first-generation and under-represented students.
Corri Roberts, director of the Rudd Scholarship Program, is personally involved with the selection process and mentoring and coaching the scholars throughout their college journey.
Roberts said the Rudd Foundation started this scholarship program in 2018 "to provide Kansas students who demonstrate our core values of grit, determination, and work ethic with an incredible opportunity to graduate from college with a four-year degree and no debt." She emphasized that the benefits are more far-reaching, however. Rudd Scholars also receive mentoring, networking and professional development activities, and internship opportunities. They also are encouraged to get involved in philanthropic organizations.
Dr. Tisa Mason, president of Fort Hays State, welcomed the new group of Tigers with open arms.
"We are really proud to partner with the Rudd Foundation and honor their deeply rooted Midwestern values," Mason said. "Grit and hard work and integrity are what make our people at Fort Hays State University – as well those in the state of Kansas – fantastic. These are the values of a Fort Hays State Tiger. This is what Tiger Nation is all about, and we welcome you to our beloved Tiger Nation."
Students who were selected for scholarships and chose to attend Fort Hays State in 2022-23 are listed alphabetically with their high school and hometown.
• Jaden Boone, Quinter High School, Quinter.
• Corinne Cole, Phillipsburg High School, Phillipsburg.
• Emilee Cole, Phillipsburg High School, Phillipsburg.
• Kyle Lavigne, Ulysses High School, Ulysses.
• Lyly Le, Wichita North High School, Wichita.
• Starlet Parham, Salina Central High School, Salina.
• McKenna Schaller, Kinsley High School, Kinsley.
About the Rudd Foundation:
Leslie Rudd established the Rudd Foundation in 1998 to honor the Midwestern values that strengthen character and lead to a lifetime of success in business, community, and family. The foundation gives back in meaningful ways to help both people and organizations who possess the initiative, determination, and capacity to achieve their goals and thereby make a positive impact for those around them. For more information, contact Corri Roberts, 316-847-4828, corri.roberts@ruddfoundation.org.