/

/

Grace Van Roekel (April 13, 1933 - April 4, 2022)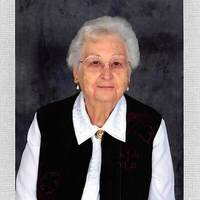 Grace Van Roekel, daughter of Roy and Juanita (Lyon) Brown, was born April 13, 1933 in Norton County, KS. Grace attended country schools and then the Prairie View schools. She died Monday, April 4, 2022 at the Phillips County Hospital, Phillipsburg, at the age of 88.
She was united in marriage to Raymond Van Roekel. They raised four children in Logan, KS.
Grace enjoyed hand work, quilting and sewing, and her greatest joy was being a wife, mother, grandmother, and great gram.
Grace later married Dean Dillon. The couple later divorced.
She was preceded in death by her parents; husband Raymond "Ray"; sister Mae Rupke; brothers: Dale and Walter Brown; brother-in-laws: Ira Van Roekel, Albert Van Roekel, Mel Rupke, Wilbur Van Roekel, Ferd Van Roekel; and sister-in-laws: Goldie Vos, Jennie Barnard, Martha Van Roekel, and Darline Brown.
Survivors include her children: Donald Van Roekel and wife Mary Beth of Logan, Marcia Shott of Lincoln, NE, John Van Roekel of Phillipsburg, and Ronald "Short" Van Roekel and Deb Dillon of Logan, KS; 6 grandchildren: Ryan Van Roekel and wife Julie of Ft. Collins, CO, Amy Schick and husband Brad of Goodland, KS, Amanda Shaw of Lincoln, NE, Stephanie Everett and husband Justin of Denton, NE, Tyler Van Roekel of Logan, KS, and Britney Van Roekel of Hays, KS; 8 great grandchildren: Nyah and Noah Van Roekel, McKenna and Caden Schick, David, Cambry, and Addison Everett, and Ella Grace Shaw; along with many cousins, nieces, nephews, and friends.
Funeral services will be held Thursday, April 7 at 10:00 a.m. in the Logan Christian Church with Pastor Troy Buss officiating. Burial will follow in the Pleasant View Cemetery, Logan.
Visitation will be from 5:00 to 9:00 Wednesday at the Logan Funeral Home.
Memorial Contributions may be made to Hospice Services.
SERVICES
Funeral Service
Thursday, April 7, 2022
10:00 AM
Logan Christian Church
204 1st Street
Logan, Kansas 67646