/

/

Hansen Museum News (April 11, 2022)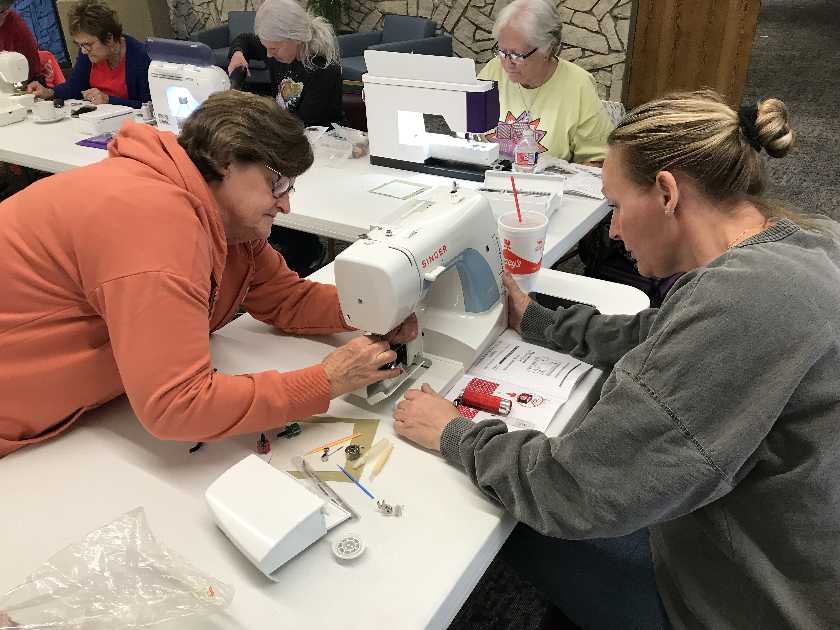 Anna Schremmer (Phillipsburg) helps Jessica Harmon (Hays) put her presser foot on during the Hansen Museum's Sewing Machine Basics class. Busily attending to their machines in the background are Verlaine Schooler, Cathy States, and Glenna Wright (al
Museum News
Shari Buss, Director
Dane G. Hansen Museum
110 W. Main, P.O. Box 187, Logan, KS
Fuzz, dust, lint, and errant threads were the first order of business at the Hansen Museum's Sewing Machine Basics Class last Tuesday. Instructors Anna Schremmer and Linda Imm deftly guided participants in searching out all the nooks and crannies where those nasty impurities tend to hide in sewing machines. After cleaning and oiling, these wise women taught attendees how to load bobbins and thread their machines. Lastly, the newly cleaned and oiled machines were put to the test. If needed settings were adjusted to ensure stitch strength and consistency. Participants were extremely impressed – not only with how much fuzz one can find in a sewing machine, but also with the expert guidance provided. Thank you, Anna and Linda, for a class well taught!
Another smashing success was last Saturday's Basket Weaving class led by Manhattan fiber artist Marsha Jensen. Expertly, Marsha guided seven participants in weaving a 10" by 5" basket from start to finish in one fun filled day. After completing their baskets, weavers were given the opportunity to color their baskets by dipping them in a walnut stain. The Hansen Museum hopes to find a compatible time to have Marsha return for another adventure in basketry.
This morning, travel bloggers Melody Pittman and Sara Broers made a pit stop at the Hansen Museum. On assignment to travel Highway 36 in Kansas these gals took a slight detour off their path to take in the sights of Logan. They appeared to be pleased with the Hansen Museum and both ladies stated that it was quite an unexpected find. In fact, as Melody was leaving, she stated that she hadn't seen art this good since she was last in Kansas City. A wonderful endorsement of our current exhibition Under Pressure-Painting with Air.
Under Pressure-Painting with Air will be on view through May 22, 2022. Stay up to-date on Museum happenings by liking and following the Hansen Museum Facebook page. The Museum is located at 110 W. Main Street, Logan, Kansas. Museum hours are Monday through Friday 9-12 & 1-4; Saturdays 9-12 & 1-5; Sundays & holidays 1-5. We are handicapped accessible and thanks to the generosity of the Dane G. Hansen Foundation, there is never an admission fee. We hope to see you at the Museum!