/

/

Paula J. Haskett (June 6, 1962 - April 14, 2022)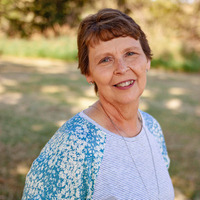 Paula Jean Haskett went home to be with Jesus on April 14, 2022, at the age of 59. Paula was born on June 6, 1962 to Sterling and Pauline Bagby, and from the very beginning, her life was an adventure; arriving six weeks early, the doctor gave Sterling the decision to save baby Paula, or Pauline. Instead of choosing, Sterling insisted that the doctor "go save them both!"; in that moment, the incredible spark in her soul was ignited. Paula adored growing up with her two older brothers Steve and Bob in the family home that was directly above the drive-in theatre in Stockton, KS. A few years later, on her 19th birthday, Paula married the love of her life, Nick Haskett. From this union they birthed two children, Eli and Nicole. Years later, due to God's providence and their overflowing love, they took in and adopted their young niece Sammie, whom they raised and cherished as their own.
Nick and Paula's home was a community hub for the kids, their classmates, friends, extended family or anyone who needed a safe place to land. The house was always full of a crowd, and often included people they barely knew. And of course, everyone was always welcome at their table for the best home cooking they'd ever had.
Throughout the years, Paula became a staple in the community. She owned and operated the Majestic Theatre in Phillipsburg for over fourteen years, where she was known for holding New Years Eve movie parties and designing movie-themed parade floats. She also dove head-first into many other activities, including a fourteen-year-long season as Boy Scout Master. Paula's church involvement was broad, impactful, and always held her greatest devotion: She served as the Sunday School Superintendent at Pleasant Green Assembly of God, and helped pioneer the Wednesday night Missionettes program that continues to this day at Heartland Worship Center. After her career with the theatre, Paula became a school bus driver, and later a Para professional. All of this, while her ministry continued as Children's Pastor at Heartland Worship Center, relentlessly loving kids and creating young leaders. She enjoyed "her kids" in every role she fulfilled, whether on the bus, in the classroom, or at church. When Halloween came around, you would find Paula dressed up as a hippie, mime, backwoods country hillbilly, or even a mad scientist running the halls of the school. She would do anything to give the kids a happy day.
A true world changer in every season of her life, Paula poured love into the lives of everyone around her. In her eyes, each person she met and every job that she held was another opportunity to care about someone. A life coach by nature, she tutored countless youth to help them reach their goals; whether it was with Boy Scouts, earning a high school diploma, or cultivating a passion for children's ministry, Paula diligently worked with her own kids, and countless others in the community, through all their achievements. Everyone who knew Paula quickly realized how she always believed in their potential, and greatness…often before they believed in it for themselves.
Paula had an authentic and uniquely personal relationship with everyone. She loved her friends, co-workers, church kids, nieces & nephews, siblings, and in-laws, all were special to her. But a new kind of love was sparked in her heart once she became a Nana; her greatest joys in life were her grandkids – Avalee, Paelyn, Emmie, Levi, Ryker, Everly, Cole (aka "George"), and Henry. Moments with them were precious to her, and she used every opportunity she had to lavish them with love and care. Given the option, each grandchild would gladly have chosen to live with Nana and Pops, full-time.
Having never met a stranger, Paula's vibrant presence in every room and her endlessly-giving heart made it clear to everyone that she was special, earning her the title of "Aunt Paula" to many. A genuine, passionate love for Jesus, and the joy that comes from having a relationship with Him, were a continuous flow out of her heart. Even after her cancer diagnosis, Paula's unshakeable faith defined her, as she resolutely accepted any and every possible outcome with peace, and confidence in Him. True to her nature, in the moment Paula learned that her cancer was no longer treatable, she bravely announced to the room "well, off to the next adventure". She knew that if her time on earth was short, she was closer than ever to her heavenly home. It was that relentless, Jesus-driven optimism during her battle with cancer that made her last months so remarkable; and in the truest example of a husband's love, the way Nick walked hand-in-hand with Paula through every step of their journey was an inspiration to their family, and to everyone who witnessed it.
Never wanting to give up on her goals, Paula diligently carved out time during her years of treatment to complete her college degree, just weeks before her promotion to heaven. Paula Haskett lived life with an intense spark, uncontainable joy and overflowing regard for others, to her last day. Those who loved her can honor her best by spreading kindness and loving the way she did…just like Jesus.
Paula's survivors include husband Nick Haskett; children Eli and Melody Haskett, Sammie and JD Washington, Nicole and Nathan Spar; eight grandchildren; brother Bob and wife Bridget Bagby, as well as brother Steve and wife LeAnn Bagby; many nieces and nephews, and countless others she touched in this life.
Funeral services will be held Wed. April 20 at 10:00 a.m in the Heartland Worship Center, Agra, with Rev. J.D. Washington & Rev. Chris Baker officiating. The service will be streamed live on the Olliff-Boeve Memorial Chapel Facebook page. Burial will follow in the Haskett Cemetery.
Memorial contributions may be made to the Heartland Worship Center Children's Ministry.
Visitation will be from 12:00 to 9:00 Monday & 9:00 to 9:00 Tuesday with the family receiving friends from 6:00 to 7:00 Tuesday evening.
SERVICES
Funeral Service
Wednesday, April 20, 2022
10:00 AM
Heartland Worship Center
1004 E. Hwy 36
Agra, Kansas 67621