/

/

Phillipsburg High School holds annual Athletic Awards Ceremony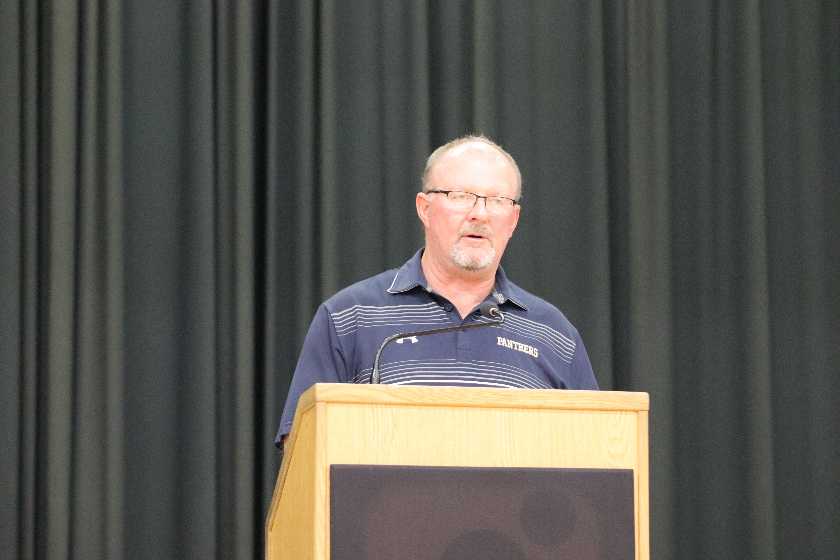 Phillipsburg High School held their annual Athletic Awards Ceremony on Sunday, May 1, in Chuck Newlin Gymnasium. During the ceremony, the most recent Wall of Fame inductees were honored. Those inductees included Seth Derr, a 2013 graduate of Phillipsburg High School who excelled in the area of track and field in both high school and college and JB Covington, who retired from teaching and coaching at Phillipsburg. Covington led his football teams and track teams to multiple state championships.
Following the presentation of the Wall of Fame inductees, each sport presented a recap of their season and honors that were achieved by athletics in the respective sport.
In cross country, Coach David King presented the league team with their medals for placing second at the league meet and also presented freshman Jaidon Allen with his metal for individually placing at the meet.
Tennis Coach Donna Jarvis read a recap of the varsity records and achievements and recognized sophomore Makenna Russom for qualifying for the state tournament.
Volleyball Coach Jillian Wickham presented a highs and lows of the volleyball season and recognized the all-league selections: junior Heather Schemper and senior Abby Babcock first team, junior Taryn Sides second team and freshman Jenna Storz honorable mention.
Football Coach Kendall Fiscus then recapped the football season and revealed the post-season honors for MCL and media outlets. Senior Brock Buresh received MCL honors with first team offensive line and second team defensive line, honorable mention in the Wichita Eagle and honorable mention in the KSHSAA Covered. Senior Joel Ford received MCL honors with second team defensive back and honorable mention Wichita Eagle and KSHSAA Covered. Freshman Caden Seems received second team MCL for defensive line.
Pacer sponsor Amy Reiner discussed the Pacer season beginning with their camp experience and awards and recognized senior Caitlyn Cheney, junior Kyla Kenney and sophomore Sophia Riffel for qualifying for the UDA Disney Spectacular.
Cheerleading sponsors Belinda Sisson and Sky Davis also presented an outline of the events that the cheerleaders had participated in and organized this season.
Boys' Basketball Coach Keith Sides recapped the basketball season with highlights of the Amos Morris Championship and league tournament placing and presented MCL all-league honors to senior Joel Ford, along with recognition for the stats Ford achieved this season.
Girls' Basketball Coach Rachel Miller discussed the season highlights of winning the regular season MCL title and finishing as sub-state runners up to the eventual state champs. Miller also presented post season honors to senior Abby Babcock and junior Taryn Sides. Babcock was named third team all-league, honorable mention Wichita Eagle and honorable mention Topeka Capital Journal. Sides was named first team all-league, first team Wichita Eagle, first team Topeka Capital Journal, KBCA 3A first team, Sports in Kansas 3A player of the year and Sports in Kansas All-Classes Top 5 player.
Wrestling Coach Andy Kenney discussed the wrestling season and the improvements the team made throughout the course of the year. He acknowledged the individuals who advanced to the state tournament: sophomore Bella Keesee, senior Brock Buresh – second place finish, senior Theo Keesee – sixth place, freshman Patrick Driggs, freshman Kaden Sisson – third place finish and freshman Hunter Sisson – fifth place finish.
Boys' Tennis Coach Donna Jarvis used a Jeopardy-style game to give the highlights of the first ever boys' tennis season.
Track Coach Joe Buresh highlighted both last season's track results including the state finishes and gave a recap of this season's track thus far.
Golf Coach Keith Sides also presented information about the conclusion of last season for the golf team and how the season thus far has been going.
Following the coach talks, those students lettering in at least one sport were recognized by grade level.
At the conclusion of the evening, special awards were presented. These awards included the Paul Gardner Lineman Award which was given to senior Brock Buresh, the Outstanding Senior Golfer Award which was presented to senior Kale Shelton, the Michael Mason Track Award which was presented to junior Kyla Kenney and sophomore Trevor Dierking, the Sportsmanship Award which was given to senior Brock Buresh and senior Caitlyn Cheney, the Emil Dusin Fastest 800 Award & Outstanding Distance Runner Award which was presented to junior Heather Schemper and sophomore Rhett Shelton.