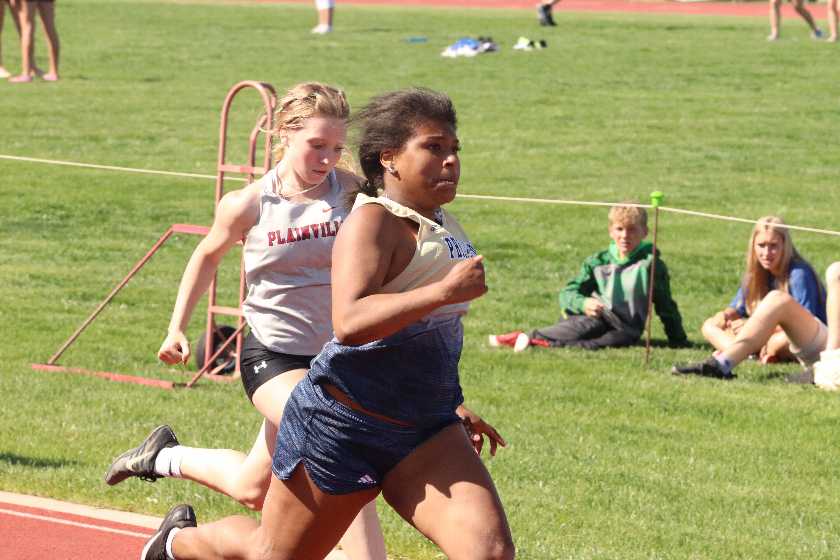 Senior Ishia Calhoon battles during the 100M run at the MCL track meet on Friday, May 13 at Smith Center.
The Lady Panthers secured a second place finish at the Mid-Continent League Track Meet on Friday, May 13. The Lady Panthers scored a total of 89 team points to finish runner up in the meet. TMP won the meet with a total of 94 points.
The Panthers saw success in both the field events and the running events. Several individuals set new Personal Records and sophomore Caydence Corman tied the school record of nine feet in the pole vault. Individual placers for the Panthers were as follows:
200M: junior Heather Schemper, first; junior Taryn Sides, second
400M: H. Schemper, first; T. Sides, third; senior Abby Babcock, fifth
1600M: freshman Elli Velardes, fifth
100M Hurdles: senior Mady Boydston, sixth
4x100M Relay: Sides, Babcock, junior Trinitti Gross, Schemper, first with a PR of 50.71
4x400M Relay: Babcock, Gross, Sides, Schemper, first with PR of 4:08.79
Shot Put: junior Austin Dierking, first with a PR of 37'1.5"
Javelin: freshman Karissa Keeten, sixth with a PR of 115'07"
Pole Vault: sophomore Caydence Corman, second with a PR of 9' to tie the school record
Long Jump: Babcock, first with a PR of 16'8.5"; Corman, sixth
The Lady Panthers will compete in the 3A Regional Meet at Phillipsburg on Thursday, May 19.