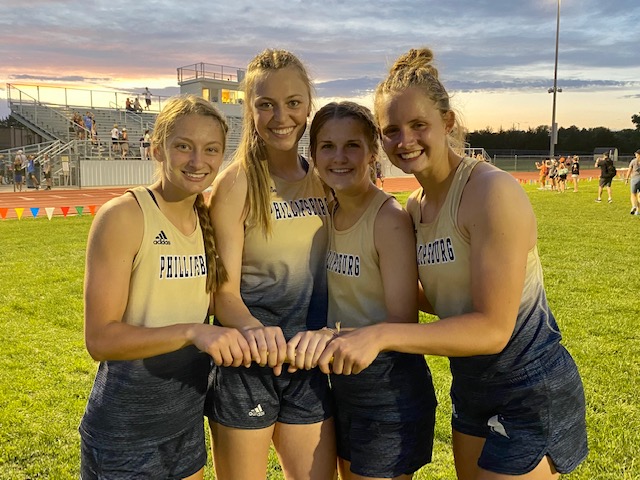 4x100 & 4x400 Meter Relay 3A Regional Champions: T. Sides, A. Babcock, T. Gross, H. Schemper.
With one race left in the evening, the Lady Panthers were looking to jump into the top three of the team placings at the 3A Regional Track Meet in Phillipsburg. The team had fluctuated from second to fourth throughout the meet, but had a chance to finish in the top three with a good showing in the 4x400 meter relay.
Going into the race, the relay team, consisting of senior Abby Babcock, junior Trinitti Gross, junior Taryn Sides and junior Heather Schemper had earned the second-place ranking with a previous time of 4:08.79 set at the league meet the week before. The one seed in the race was Smokey Valley, who had a time of 4:05.
With Smokey Valley's open quarter regional champion Abby Rose leading off, the Vikings took a sizable lead in the race. The Panthers, however, would not be denied, as they chipped away at that lead with Sides eventually overtaking the Smokey Valley runner in the third leg. Schemper then extended the lead in the anchor leg to give the Panthers the 4x400 championship, a new PR and a new school record of 4:03.5.
The relay win also secured the Panthers third place in the team competition with 58 points. The winner of the regional meet was Smokey Valley with 102 points followed by Colby High School with 62.5 points.
The Panthers had several other regional champions and placers who aided in earning the team a third-place finish.
Javelin: freshman Karissa Keeten, sixth place with a throw of 110'4"
Shotput: junior Austin Dierking, fifth place with a throw of 37'9.75"
Discus: Dierking, fourth place with a throw of 98'7"
Long Jump: Babcock, fourth with a jump of 16'1.5"
200M: Schemper, first 26.24; Sides, fifth 27.57
4x100M Relay: Sides, Babcock, Gross, Schemper, first 50.02 (new PR)
400M: Schemper, second 58.99; Sides third 1:00.38
4x4M Relay: Babcock, Gross, Sides, Schemper, first 4:03.50 (new PR)
Those individuals and relay teams that finished in the top four in their event will attend the KSHSAA State Track Meet at Cessna Stadium in Wichita on Friday, May 27 and Saturday, May 28.