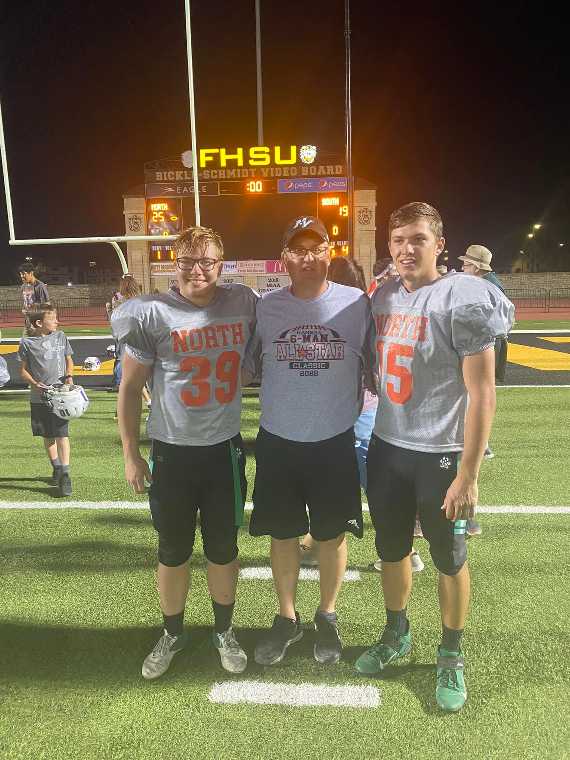 Northern Valley's Aaron Henrickson, Marvin Gebhard and Bailey Sides represented the area in the 6-Man All-Star game. Courtesy Photo by Joy Sides.
The third annual 6-Man All-Star Game was held Saturday, June 4 at Lewis Field Stadium at Fort Hays State. The North squad, featuring area players won the contest 25-19. Two Northern Valley football players, Bailey Sides and Aaron Henrickson, represented the area in the matchup, as well as, Northern Valley football coach Marvin Gebhard.
The teams featured 2022 graduates of the 14 schools in Kansas that currently play 6-Man, along with a few 2022 graduates whose schools will play at the 6-man level next season.
The North squad jumped out to an early lead in the first half 12-0, but the South was able to close the gap just before half time with a score by Natoma's Tracen Frye. At the half, the North squad led 12-7.
Out of the half, the South scored again on a 57-yard run but failed on the conversion. The North responded quickly with two touchdowns on their next two drives and led the competition 25-13 at the end of three quarters.
The South tallied on one more touchdown in the fourth to close the gap 25-19. The North managed the clock well in the last few minutes of the game to hold on to lead.
The North is now 3-0 in the All-Star competition.