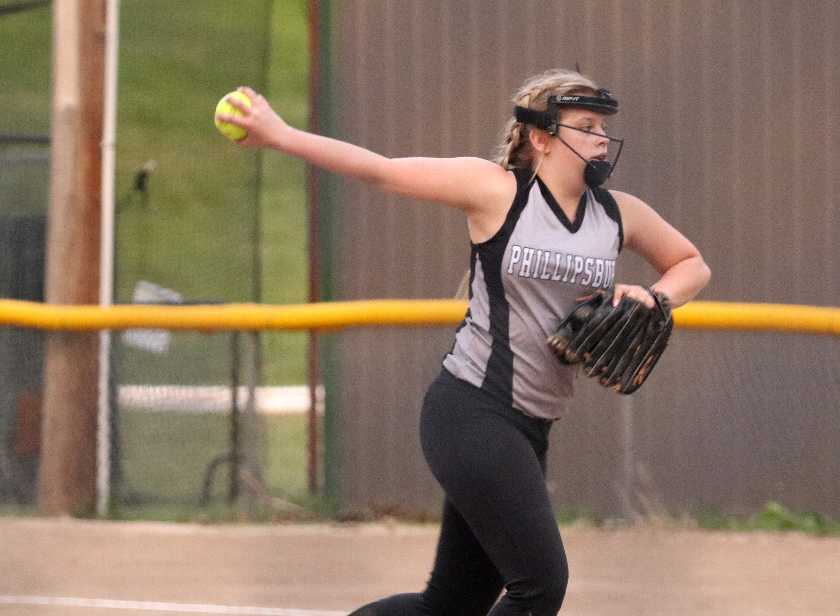 Alexis Wonderly prepares to throw her first pitch in the fourth inning of the K18 game against Russell on June 9.
The boys' K18 team hosted Oberlin on Thursday, June 9. Phillipsburg dominated the competition as they defeated Oberlin 12-0 in three innings.
Phillipsburg had nine hits on 17 at bats and advanced on five walks. The team accumulated nine hits with three of those coming from Cole Shelton and two from Caden Seems. Blake Buresh also hit an in-the-park homerun in the competition.
Seems was on the mound for Phillipsburg and gave up only one hit. Seems accumulated nine strike outs.
For Oberlin, they had one hit for ten at bats and no walks. Oberlin used two pitchers in the competition: Pattangall and Shaw.
The boys' K18 team will be back in action at home on Thursday, June 16.
The girls' K18 team also took the field when they hosted Russell on June 9. Phillipsburg defeated Russell 11-5.
Phillipsburg had nine hits in 21 at bats. Phillipsburg was led in offense by Jaelyn Miller who had four hits including a triple. Karissa Keeten also attained three hits, with one being in in-the-park homerun.
Phillipsburg used a duo of pitchers to secure the win. Trinitti Gross began the night on the mound and pitched for three innings. Gross gave up two hits and struck out six batters. Alexis Wonderly took the mound in the fourth inning and finished out the game. Wonderly gave up two hits and had two strike outs.
Russell had four hits in 18 at bats and drew four walks. Russell sent Tionna to the mound for all three-and-one-half innings. Tionna gave up nine hits and walked three batters.
Phillipsburg will be on the road against Ness City on Thursday, June 16.