/

/

The Bissell Buzz (July 25, 2022)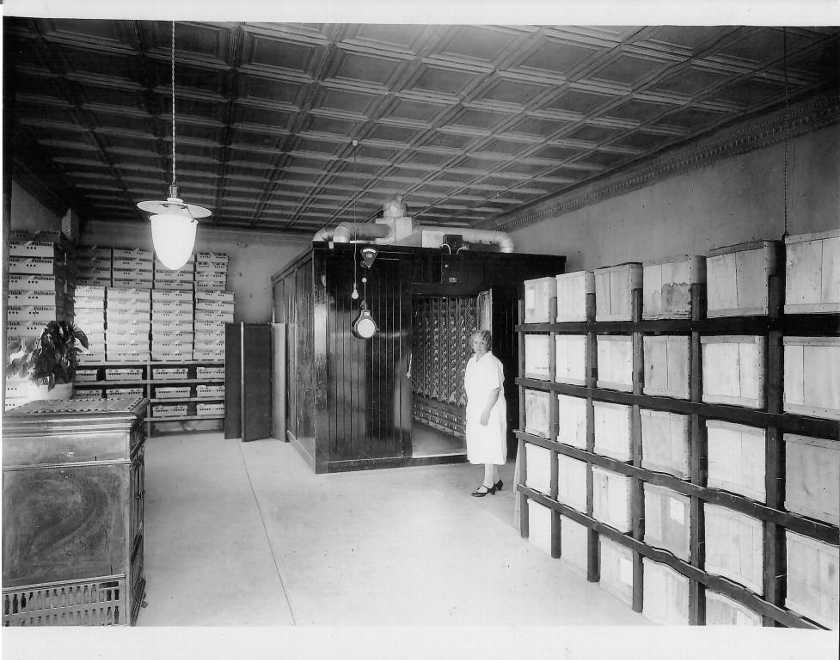 Sallie Burnham inside the hatchery
Bissell Buzz
The last week of July and that means it's time for County Fair again, which rings in a busy time for the 4-H'ers. All their hard work on projects and animals will culminate in showing off their skills. County Fair also means it's time for our booth, to showcase something interesting. This year our focus is on none other but chickens! Yes, history comes home to roost at Fort Bissell!
In December 1919 Mrs. Sallie Burnham, a resident of Smith Center, announced that she would be starting a hatchery in Phillipsburg. She placed an advertisement in the local newspapers to ask the locals for eggs. These eggs had to be fresh, not over one week old. They also may not have been chilled, as chilled eggs don't hatch. "Don't shake yolks and whites together over rough roads. Drive a little carefully." She asked. And also "When you yourself need an overcoat; the eggs need a warmer overcoat on the way to town."
Sallie Nichols Burnham's life as recorded by her daughter reads like a novel in itself. She grew up in the south and as child had malaria. She often missed school as she was not very interested in formal education, but learned to read, write, spell a little and do simple sums in arithmetic. Sallie was a tomboy and had to face some hardships and tragedies already in her young life. At the age of eighteen, she married Milton Herbert Burnham who was fourteen years her senior and a divorced man, against the wishes of her family. They moved around a lot and eventually landed in Kansas, which was beneficial for his health. When he studied to be a teacher, she studied with him to better herself and even attended school with him being the teacher. When Milton died from a brain tumor, he left Sallie a widow at the young age of 43. After a few ups and downs, she went to live with her daughter in Smith Center. After being a nurse for a while, she started looking for a new endeavor. Mrs. Clara Caldwell had a hatchery in Smith Center and was making lots of money. Sallie saw no reason why she could not also do that, but in getting some training on the matter from Mrs. Caldwell, agreed not to do so within the same town of Smith Center. Hence Phillipsburg became the best option for a new hatchery.
While making arrangements for the hatchery, she contracted a severe case of smallpox and sporous pneumonia as a complication. Despite being severely ill for four weeks, it seemed the plans of the hatchery gave her something to fight for. Sallie purchased lots in Phillipsburg, three blocks west of First National Bank on the Rock Island Highway. She had the hatchery built with a large basement and a small three roomed house connected to the runway of the basement stairs. The capacity of her fifty-two incubators was 20,000 eggs. She was sending off chicks to parts of Kansas as well as other states. It required the constant services of four people to properly maintain it and was considered as leading hatchery in this part of Kansas.
One of her helpers, was her daughter Mrs. Dr. Buchner from Smith Center. One day in March 1920, she had laid down her four-year-old son for his nap and went to work in the hatchery next door. The wind had been blowing dust for the two previous days and this day it was so bad that you could not even see across the street. After about twenty minutes, she decided to go and check in on Sonny. When she opened the hatchery door, she saw the house was going up in flames. Despite efforts from the fire department, the house burnt down and little Sonny had lost his life in the fire.
Where someone else would have abandoned the business, Sallie continued with the encouragement of friends. Warren Womer of First National Bank assured her that her financial needs would be taken care of. The hatchery was not damaged and could continue and insurance paid for the reconstruction of the house. Life seemed to continue. Sallie was so dedicated to her hatchery – she would get up many times during the night to check on the temperature of the machines.
She eventually sold the hatchery in 1926, at the age of nearly sixty, yet agreed to help for another year. She was out of the hatchery business for a short time, when she announced she was going to start another hatchery! She bought the C.A. Lewis house at 487 3rd Street for $5,000 and spent another $2,000 to fix it up. This was one of the finest homes in Phillipsburg and she was a proud owner. At the back of the property was a fair-sized barn where she started a hatchery once again. This however only lasted for one season, as she realized that the location was not ideal and decided to move the barn to the east part of town on Highway 36.
Sallie Burnham is for sure the original Chicken Lady from Phillipsburg and was also the grandmother of local resident Dean Buchner. There is so much more about this Mrs. Burnham and her entrepreneurship which reached wider than chickens alone. One amazing lady indeed.
Remember the Fort is open! Swing by the Fort and take a stroll through time, back to the life and times of the Pioneers!
Our hours still are:
Tuesday to Friday from 9 a.m. to 4 p.m.
Saturdays 9 a.m. to 2 p.m.
Ruby Wiehman
Curator