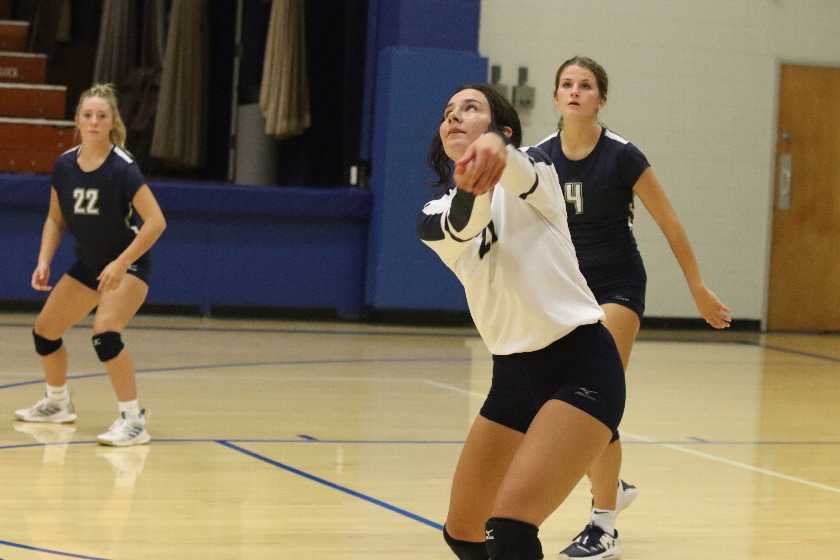 Reaching for a dig, sophomore Jenna Story plays the ball up during the Hoxie competition on Sept. 6. Photo by Robin Sides.
The Phillipsburg volleyball team had two competitions the week of Sept. 6-9. On Tuesday, Sept. 6, the team traveled to Stockton to compete in a triangular with Stockton and Hoxie. In the first set, the Panthers took on the Hoxie Indians. The Panthers were victorious, defeating the Indians in two sets 25-14, 26-24. Highlights from the game included nine digs by sophomore libero Jenna Storz. Senior Heather Schemper had 2.5 blocks and 15 kills in the competition and senior setter Taryn Sides accumulated 20 assists.
In the second match of the evening, the Panthers faced Stockton. Once again, the Panthers came away with a victory in two sets, defeating the Tigers 25-11, 25-18. The Panthers has an 84% serving efficiency in the match and accumulated 46 digs, with Storz accounting for 10 of those. Offensively, the Panthers were led by a core of senior hitters: Schemper had 10 kills, senior Trinitti Gross had 4 kills and senior Kyla Kenney had 3 kills. Sides accumulated 21 assists in the competition.
On Thursday, Sept. 8, the Panthers traveled to Minden, Ne., to face a tough Whippet squad. The Panthers fell to the Whippets in three straight sets 21-25, 22, 25, 25-11. The team accumulated 61 digs on the night and 29 assists, with Sides accounting for 27 of those assists. Seniors Schemper and Gross added 16 and 7 kills to the Panther offense.
"Unfortunately, we were outplayed tonight. They were faster and more multidimensional than we have seen. We were left guessing a lot. I was proud of the girls' positive attitude throughout and to battle back hard in sets 1 and 2. Minden is a great team," Head Coach Gillian Wickham said.
The Panthers will be back on the road this week as they travel to Norton on Tuesday, Sept. 13 for a triangular with Norton and Oakley and then to Alma, Ne. for a dual on Thursday, Sept. 15.