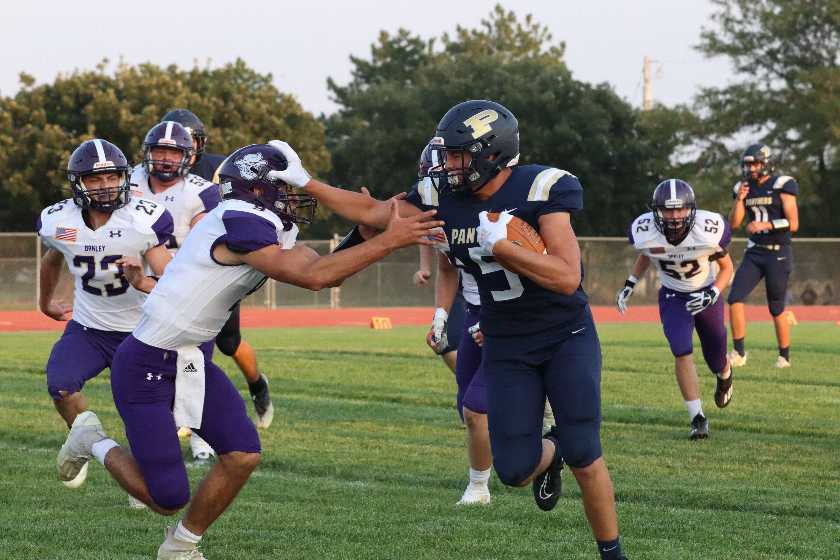 Junior Trace Hanchett extends his arm to block the defender during a run on Friday, Sept. 9 against Oakley.
The Phillipsburg Panthers hosted the Oakley Plainsmen in a Homecoming game on Friday, Sept. 9.
In the first quarter, the Panthers struck first on the scoreboard when senior Jesse Blackburn ran the ball in from the one-yard line. Sophomore Jaden Boyle completed the PAT to give the Panthers a 7-0 lead. The Panthers scored again on a 59-yard run by junior Trace Hanchett. The PAT attempt was no good, giving the Panthers a 13-0 lead.
The Plainsmen responded late in the first quarter with a 35-yard run for a score and a successful PAT. The Plainsmen struck again quickly with a six-yard run for a TD, but did not complete the PAT.
The Panthers responded with a one-yard run by senior Devin Johnson and successful PAT by Boyle. However, the Plainsmen would even the score at 20 at the end of the first quarter with a one-yard run and successful PAT.
The second quarter would find both teams amping up their defense and holding one another scoreless. In the third quarter the Panthers stopped the Plainsmen on a fourth and goal attempt, but suffered a safety when they couldn't get the ball out of the endzone offensively. Oakley would tack on another score in the third quarter to lead the Panthers 29-20 at the start of the fourth.
The fourth quarter brought more of the same from Oakley as they were able to put another six on the scoreboard while holding the Panthers scoreless. The Plainsmen came away with the victory 35-20.
Offensively, Blackburn was 2/12 in passing for a total of six yards, with junior Hanchett being his primary target for all six yards. The Panthers accumulated 151 rushing yards with Hanchett leading the way at 105. Blackburn carried the ball 11 times for 19 yards, Johnson had four carries for 15 yards and junior Rad Rodriguez had three carries for 12 yards.
Defensively, the Panthers were led by Rodriguez who had four solo and eight assisted tackles. Freshman Blake Buresh had one fumble recovery for the Panthers.
The Panthers will travel to Ellis on Friday, Sept. 16 for a league matchup.
Phillipsburg High School Varsity Football Stories: (5)