/

/

Museum News (Dec. 19, 2022)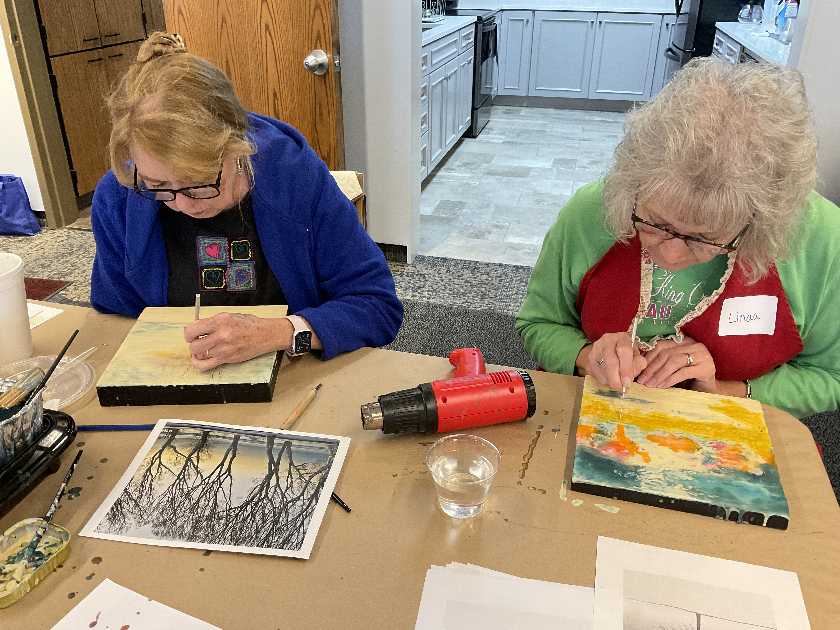 Making the top layer malleable, Margie Hammerschmidt (Hays) takes the heat gun to her encaustic painting at the Hansen Museum's encaustic painting class.
Melted wax, pigment, paint brushes, sculpting tools, heat guns, and imagination were put to work last Saturday, December 10th at the Hansen Museum's first Encaustic Painting class. Taught by Rebel Mahieu, an art instructor at Colby Community College, attendees learned the basics of encaustic painting. Invented by the Greeks who began caulking the hulls of their ships with wax, encaustic painting incidentally morphed into art. When colored pigment began to be added to the wax, the Greeks started decorating their war ships which gave rise to artists creating "paintings" with pigmented wax.
An interesting medium, encaustic painting opens doors for all types and levels of creatives. More viscous than paint, the melted wax doesn't lend itself naturally to perfection, taking away the notion of producing a true representational work which is quite freeing to a true beginner. In addition, multiple tools are employed opening the doors even wider. One doesn't have to be a painter to produce a quality work of art in this untethered medium.
Expertly, Rebel led the class to boldly explore this new medium and the results were amazing. Each participant completed at least one new work and most produced two pieces. Above all, everyone who attended thoroughly enjoyed the experience and requested another encaustic class ASAP! Interested in encaustic painting? Check out the photos from the class on the Hansen Museum's Facebook page.
December's Artist of the Month is metal artist Bruce Bitter from Hoisington, Kansas. Bruce has filled the display area with beautiful metal wall décor, Christmas ornaments, crosses, and more. Indoor and outdoor pieces are available for purchase throughout the month of December. Any of Bruce's works would make wonderful unique Christmas gifts—stop by and see for yourself. Remember all Hansen Museum members receive a 5% discount on Artist of the Month purchases.
Our current exhibition, Life in the Trenches, explores the human face of World War I and the miserable nature of trench warfare. WWI is known as the Great War and the 'war to end all wars.' America joined the fray in 1917. Out of more than two million Americans who served in World War I, more than 80,000 were from Kansas. This unique exhibit focuses on the harrowing experiences of Kansas soldiers by using vivid, first-hand accounts of their ordeals, trials, and tribulations. Visitors learn the reasoning behind using trenches in the war; what the trenches looked like; and what life was like in the trenches.
Life in the Trenches will remain on view through January 29, 2023. The Museum is open Mon. through Fri. 9-12 and 1-4; Sat. 9-12 & 1-5; Sun. and holidays 1-5. We are closed Thanksgiving, Christmas, and New Year's Day. We are handicapped accessible, and admission is always free thanks to the generous support of the Dane G. Hansen Foundation. For more information or if you have questions, please contact us at 785-689-4846.?We hope to see you at the Museum.?