/

/

Museum News (January 9, 2023)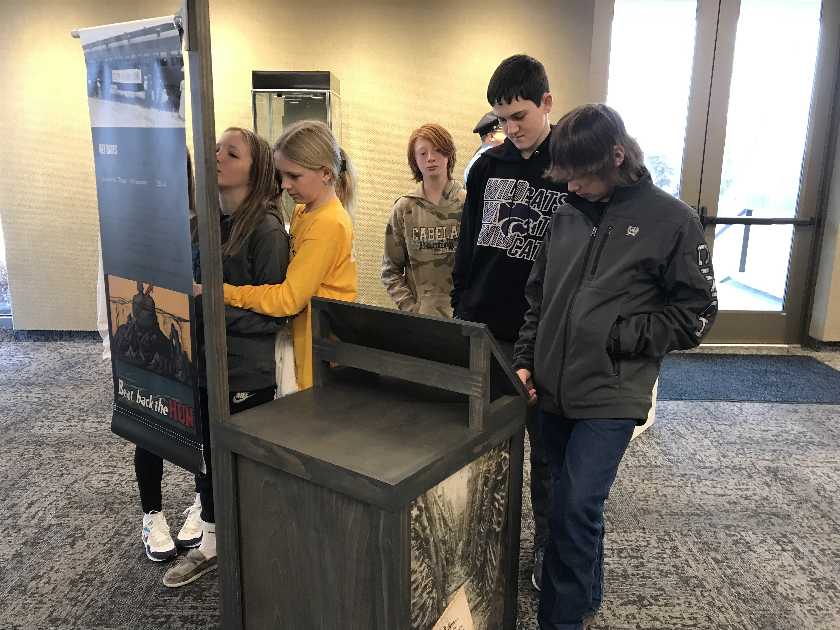 On a field trip to explore the Life in the Trenches exhibition on view at the Hansen Museum in Logan, students from Trego Junior High School, read about the assassination of Austrian Archduke Franz Ferdinand and other factors that started World War I
If one of your New Year resolutions was to learn new skills, the Hansen Museum Continuing Education program can help! We have many fun learning opportunities scheduled in 2023. Our first offering, Dance Class, starts January 15, 2023. Kerry and Dezi Ferguson will teach beginners, intermediates, and advanced learners the two-step, country swing, cha cha, polka, waltz, etc. Dance class is a tremendous value, entertaining, and an awesome opportunity to spend quality time together. Each class starts with lots of laughter and smiling and ends with progress and pride. Sounds great, doesn't it? Check out the dance class registration form on the Hansen Museum Facebook page or at www.hansenmuseum.org. There is still time to register and stay on target with your New Year's resolution(s). If dance isn't your idea of fun, then check out our 2023 Continuing Education Schedule at www.hansenmuseum.org and I am sure you will find at least one class that piques your interest.
Hot on the heels of dance class is Survey of Felting taught by Phillipsburg native Sally Brandon. Scheduled for Saturday, January 28th, this fiber class is one you will not want to miss. Sally will cover the basics of seamless felting. Students will use natural alpaca/wool fiber, hot soapy water and agitation to create a felted oven mitt. Embellishments will be discussed, and attendees will have an opportunity to try needle felting. As an added bonus, the class will end the day with Nuno felting. Using fine merino wool on a sheer, silk scarf students will make their own felted scarf. All participants will come away from Survey of Felting with a plethora of ideas and new techniques paving the way for them to go on to create a wide variety of projects.
In this day of instant messaging, it seems unreal to think that soldiers in the World War I might wait months to receive a single letter from home. When received, these handwritten letters were cherished, read and re-read multiple times. Letters home from the soldiers were precious too. One of the activities we do with school groups that come to see the Life in the Trenches exhibition is have them write a letter to a WWI soldier. Putting a face and a name to these heroes, humanizes history. Reading letters from soldiers and then responding encourages empathy and helps promote more than a rudimentary understanding of hardships faced by World War I soldiers.
John H. Balch (Edgerton, Kansas) wrote home on June 17, 1918, and in this letter, Mr. Balch stated, "Riffle and machine gun bullets are not so bad to contend with, but it's the shrapnel and high explosive shells that put the fear of God in any man." Imagine getting a letter with such a statement from your loved one. These men were forever changed and gratefully today we reap the benefits of their service and sacrifice. Remembering is important. It is a means of showing gratitude and fosters understanding, but hopefully it also helps build a better citizenry.
Life in the Trenches takes viewers through an important portion of United States history in approximately 35 minutes. It is well worth your time to visit this historic exhibition. Lonnie Jansonius will present an informative talk on World War I in the Hansen Museum Community Room on Sunday, January 22, 2023, at 2:30 p.m. This would be an excellent time to visit Life in the Trenches. The Museum is open Mon. through Fri. 9-12 and 1-4; Sat. 9-12 & 1-5; Sun. and holidays 1-5. We are closed Thanksgiving, Christmas, and New Year's Day. We are handicapped accessible, and admission is always free thanks to the generous support of the Dane G. Hansen Foundation. For more information or if you have questions, please contact us at 785-689-4846.?We hope to see you at the Museum.?