/

/

Museum News (January 23, 2023)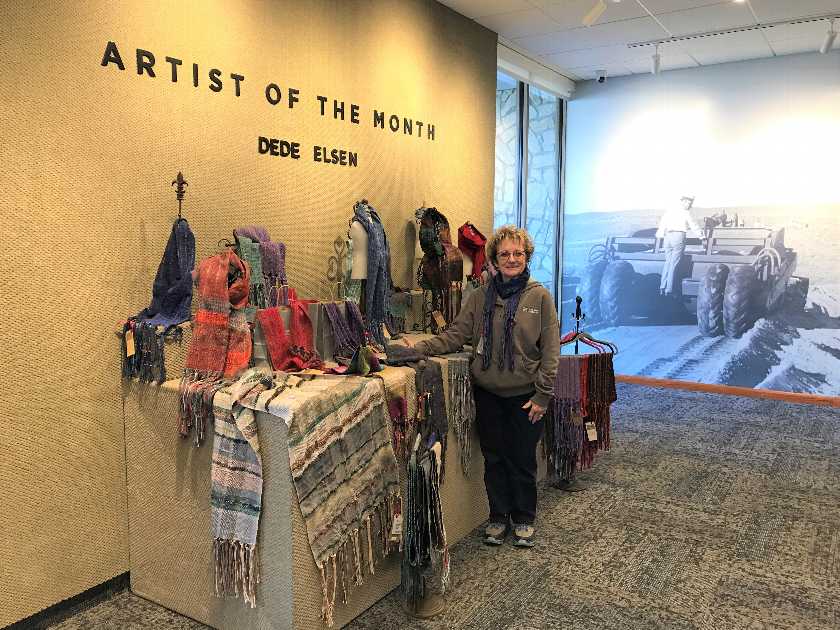 The Hansen Museum's January Artist of the Month is Dede Elsen. A talented spinner and weaver from Kearney, Nebraska.
Artist of the Month, Dede Elsen, has filled the area with lovely scarves and table runners. A spinner and weaver, Dede's display of hand woven goods consists of a large assortment of colors and fabrics. Materials range from Alpaca to recycled denim. Interesting, unique, high quality, and ever so practical her scarves and table runners make wonderful gifts for that person who has everything but likes specialty items. Dede's goods will be on view and available for purchase throughout the month of January.
On Wednesday, February 1st Laurie Albin will host an Independent Study class for oil and watercolor painters as well as sketchers. The object for this class is to offer creatives individualized instruction. For instance, maybe you have a project started, but you're stuck? Could be a creative block or a difficult technical skill? Or possibly you need help getting the facial features right on a portrait. Whatever it is, Laurie will help you work through it. This class is limited to 6 participants with no planned lesson, so Laurie can devote her full attention to participants needs. There is still availability but be sure to register before it is too late.
Maybe your creativity is more culinary in nature. If so, don't worry we have you covered too. Monday, February 13th Anna Schremmer will teach a class on decorating Valentine cookies in the relaxed atmosphere of the Hansen Museum Community Room. With an experienced hand, Anna will demonstrate creative ways to decorate a variety of cookies. After Anna's demonstration, attendees will gather around their own tables to try out their new skills and taste test their delicious masterpieces. One dozen cookies will be allotted to each registrant form. E.g., one household need only submit one registration form for one dozen cookies to decorate. A fun and inexpensive learning opportunity that can be enjoyed by the whole family. Class size is limited so register soon to reserve your spot.
Time is drawing near for the close of our current exhibition, Life in the Trenches. This historic view into World War I will remain on view through Sunday, January 29, 2023. Remembering the past and these heroic soldiers is important. It is a means of showing gratitude and fosters understanding, but hopefully it also helps build a better citizenry. The Museum is open Mon. through Fri. 9-12 and 1-4; Sat. 9-12 & 1-5; Sun. and holidays 1-5. We are closed Thanksgiving, Christmas, and New Year's Day. We are handicapped accessible, and admission is always free thanks to the generous support of the Dane G. Hansen Foundation. For more information or if you have questions, please contact us at 785-689-4846.?We hope to see you at the Museum.?