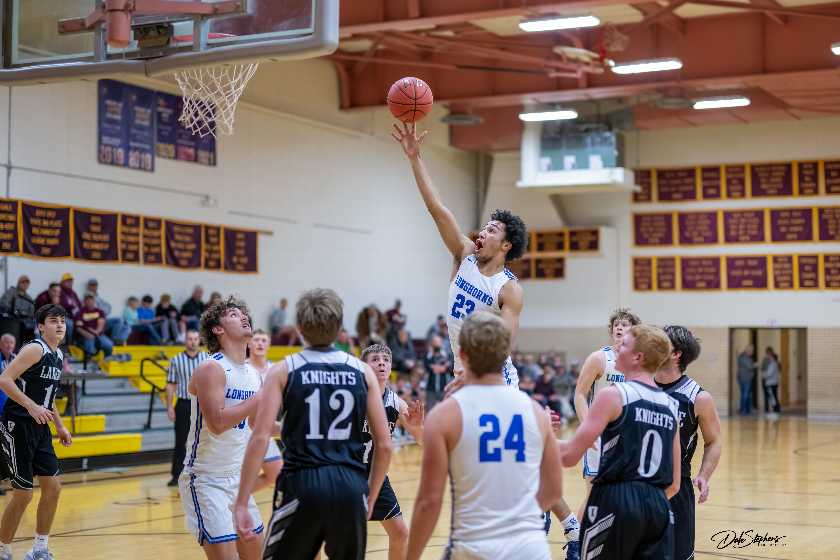 Senior, JaShawn Dodds, goes up for a rebound against Lakeside.
This week we will bring to you a recap of the end of the Thunder Ridge Longhorns basketball journey in the Lincoln tournament.
On January 17, 2023, the Thunder Ridge basketball teams traveled back to Lincoln to play in their third game of the NPL tournament. The varsity girls played Rock Hills at the elementary school and came up just short of a win. Even though they lost, they played well and still felt as though they learned a lot from the experience. The final score of the game was 29 - 45. While that was happening, the varsity boys played Osborne at the high school, and they unfortunately also came just short of a win. Overall, they played great as a team and are looking for improvements. The final score of the game was 41 - 56.
On Friday, the Thunder Ridge boys varsity won against Lakeside with a final score of 59-27. The Thunder Ridge girl's varsity team also won Friday's game against Pike Valley 39 -20. The boys finished the tournament with a third place ranking and the girls placed seventh. We are proud of our Longhorns! They will be on the road again, Tuesday, January 24th, against Pike Valley. Good luck!
Thunder Ridge High School Boys Basketball Stories: (6)