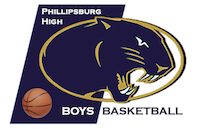 The Panthers secured a fourth place finished at the Mid-Continent League tournament after falling to the Russell Broncos in the consolation game on Monday, Jan. 23.
The Panthers had previously beaten the Broncos in a home matchup on January 6. Unfortunately, the Broncos were able to avenge that loss in the tournament rematch.
While the Broncos jumped out to a first quarter lead 14-6, the Panthers rallied in the second quarter to outscore the Broncos 11-8.
With a five-point deficit to overcome after the half, the Panthers looked to make a strong showing in the third. However, it was Russell who would come out on top in the third quarter and extend their lead 36-26. The Panthers fought back in the fourth and outscore the Broncos, but their effort would not be enough as Russell would ultimately claim the third-place finish 48-39.
The Panthers had a myriad of players on the scoreboard and were led by junior Ryan Babcock with nine and junior Rad Rodriguez with eight. Rodriguez pulled down 11 boards for the Panthers while sophomore Caden Seems secured nine. Sophomore Jaidon Allen and senior Jesse Blackburn each had four assists while Blackburn led the team in steals with three.
The Panthers had a short recovery time as they traveled to Hoisington for a non-league matchup on Tuesday, Jan. 24. Hoisington, who also had a rescheduled game on Monday night, proved to be a tough matchup offensively as they handed the Panthers a 61-46 loss.
The Cardinals took an early lead in the game and finished the first quarter up 19-14. The Panthers went into the half trailing 26-32.
The Panthers stayed with the Cardinals through the third quarter, only being outscored by one point, but in the fourth, the Panthers were forced to put the Cardinals on the line. The Cardinals converted on their free throws and were able to extend the lead.
The Panthers shot 48% on the night and were lead in scoring by junior Rhett Shelton with 17 followed by sophomore Caden Seems with 14. The Panthers were led on the boards by Shelton, who pulled down six followed by Seems with five. Senior Jesse Blackburn led the team in steals and assists with three and eight.
The Panthers will be back home on Friday, Jan. 27 when they host a league matchup with Smith Center.