/

/

Museum News (March 20, 2023)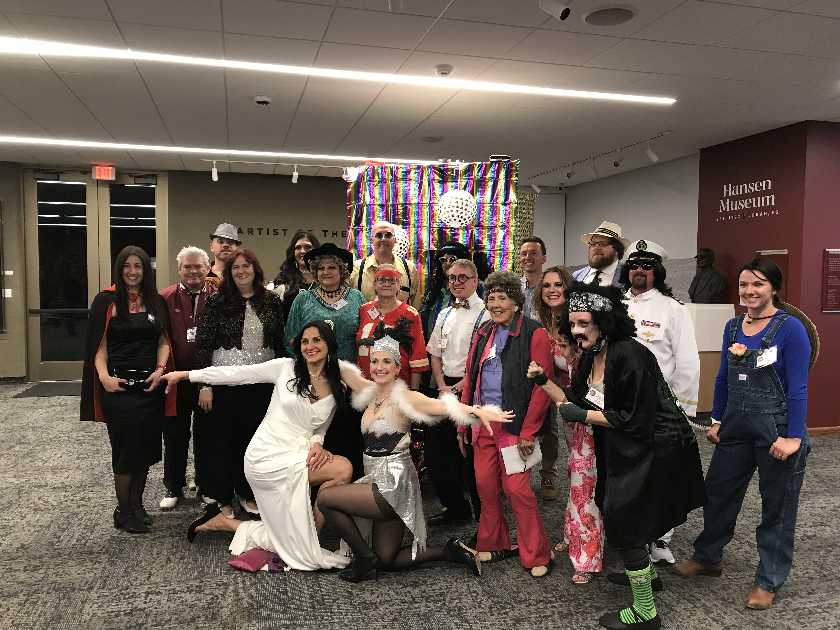 Cast of characters who performed at the murder mystery dinner theatre Panic at the Disco held at the Hansen Museum on March 11th. L to R back row: Alex Beim (Phillipsburg), Jordyn Leggett (Logan), Jim Ashmore (Logan), Dan Johnson (Phillipsburg), Br
It was hot at the Museum March 11th – in fact it was Saturday Night Fever hot as the gallery was transformed into a discotheque to host the murder mystery dinner theatre "Panic at the Disco." A cast of colorful characters highlighting all the best idiosyncrasies of the disco era put on a fantastic who-done-it show. Highlights of the night were all the fantastic outfits (characters and guests alike), an exciting dance contest that concluded with the murder of Barry Vahl, inventor of the pet rock, and all the humorous antidotes and verbal sparring between members of the cast.
Tuning into the 70's vibe, a delicious "tv dinner" consisting of salisbury steak, mashed potatoes, cream corn, and cherry cheesecake was served by Farmhouse Kitchen and Katering of Phillipsburg, Kansas. Thank you, Jodi and team, for excellent food and service. Also special thanks to Angie Wells and Tami Sauer from Phillips County Convention and Visitors Bureau for moderating the evening. Lastly, but definitely not least, thanks to all who attended and participated—it is the guests that make evenings like this a success and they did just that. It was a very successful evening—generating funds for a good cause—the Life Center—and providing great entertainment. Not everyone "stayed alive," but all "celebrated a good time!"
The exhibition on view in the gallery, Handstitched Worlds: The Cartography of Quilts, is an invitation to read quilts as maps, tracing the paths of individual stories and experiences that illuminate larger historic events and cultural trends. Spanning the nineteenth to the twenty-first centuries, the exhibition brings together a collection of quilts from the collection of the American Folk Art Museum that represents a range of materials, motifs, and techniques—from traditional early-American quilts to a more contemporary sculptural assemblage.
Looking across city blocks and quilt blocks, roadways and seams, one can see a visible kinship between quilt making and cartography. Both are built upon established systems that use color, pattern, and symbols to create whole compositions from a network of interlocked parts. Quilts and maps are also infused with history and memory—similarly living records of traditions, experiences, relationships, beliefs, and future aspirations. What can be gleaned from a bit of patchwork cut from a wedding dress, castoff feed sack, or commemorative flag? How are personal, political, cultural, and spiritual ideals inscribed onto a quilt's surface, creating a network of roadways and landmarks that illustrate the quilt maker's world and his or her place within it?
Handstitched Worlds: The Cartography of Quilts will be on view through May 14, 2024. Make plans to come explore these historic maps of American history. The Museum is open Mon. through Fri. 9-12 and 1-4; Sat. 9-12 & 1-5; Sun. and holidays 1-5. We are closed Thanksgiving, Christmas, and New Year's Day. We are handicapped accessible, and admission is always free thanks to the generous support of the Dane G. Hansen Foundation. For more information or if you have questions, please contact us at 785-689-4846.?We hope to see you at the Museum.?