/

/

Museum News (April 3, 2023)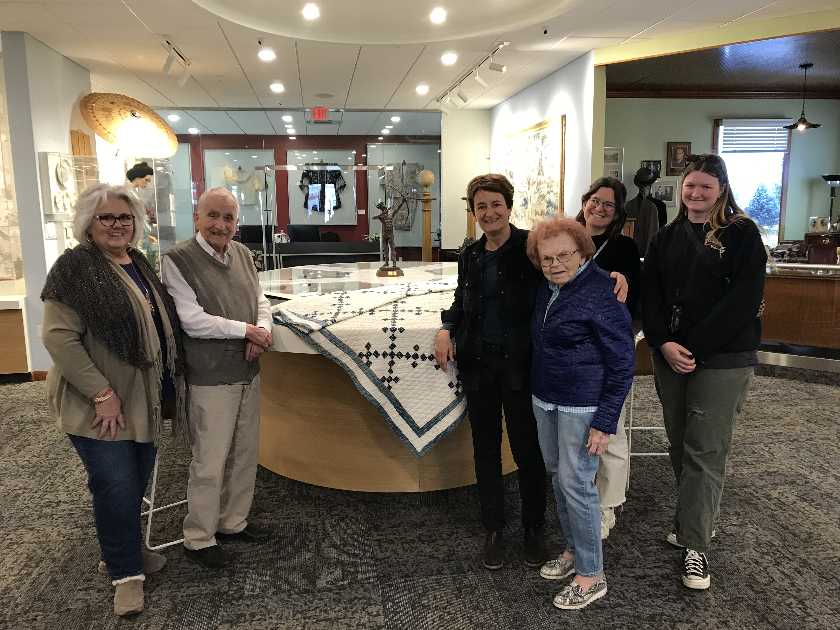 Antique quilt donated to the Hansen Museum from the Bohi family of Burglen, Switzerland in memory of the late Barbara Bohi (1932-2019). L to R Carol Bales, Hans Bohi, the beautiful Irish Chain quilt, Barbara Walser-Bohi, Janene Schneider, Hannah Wals
Spring has arrived! We have been noticing the lawn greening underneath the dead winter matt and Paul has been very anxious to get to work on sprucing everything up. This past week, he was able to get the springtining done and boy has it made a difference to the lawn. The green is really coming through! The day lilies that surround the Museum are also beginning to peak out of the ground. Everyday on my way into the Museum, I take time to note their growth. The birds are singing cheery songs and seem to be saying, "Look up, warm weather ahead!"
In celebration of spring and the upcoming growing season, Laurie Albin focused on florals to start off her watercolor painting workshop held in the Hansen Museum Community Room Wednesday and Thursday March 29th & 30th. Expertly, Laurie guided participants through techniques like bokeh, washes, working wet in wet, and wet on dry, lifting out and masking for highlights, and a multitude of other techniques to achieve various textural effects. Skillfully, Laurie guided painters through the balancing act of freedom and control in this fluid medium resulting in some very nice paintings. Photos from the Albin Watercolor Workshop are available for viewing on the Hansen Museum Facebook page. Please take time to enjoy their florals and other paintings.
The Bohi family of Burglen, Switzerland made a surprise visit to the Museum to donate an antique quilt in memory of the late Doris Bohi (1932-2019). Hans, age 99, was in the area with his daughter Barbara Walser-Bohi, and two granddaughters Hannah and Talina Walser to visit family friend Betty Baird and made time to stop. The quilt is a beautiful Irish Chain also known as a Double Nine Patch that was pieced and quilted in 1876 by Ida Duncan Bennett which the Bohis purchased at auction. Instead of taking the American antique back to Switzerland, they wanted to leave the quilt in the States and the Museum is honored to have been entrusted with this gift. The timing of the donation was perfect as it coincides with our current exhibition Handstitched Worlds: The Cartography of Quilts. The Bohi ladies thoroughly enjoyed the quilt exhibition and Hans enjoyed touring the renovated Museum.
If you have a Facebook account, you may have heard of Wandermore's Visit627Kansas. A young college student named Seth from Nebraska has made it his mission to visit all the incorporated towns in Kansas. Last week Seth made it to Logan and to our great pleasure, he stopped at the Hansen Museum. This guy does a really good job telling the history of the towns he visits as well as highlighting local points of interest. Take time to check out his Facebook page, you might just find your next day trip destination.
Our current exhibition, Handstitched Worlds: The Cartography of Quilts will be on view through May 14th. Make plans to come explore these historic maps of American history. The Museum is open Mon. through Fri. 9-12 and 1-4; Sat. 9-12 & 1-5; Sun. and holidays 1-5. We are closed Thanksgiving, Christmas, and New Year's Day. We are handicapped accessible, and admission is always free thanks to the generous support of the Dane G. Hansen Foundation. For more information or if you have questions, please contact us at 785-689-4846.?We hope to see you at the Museum.?