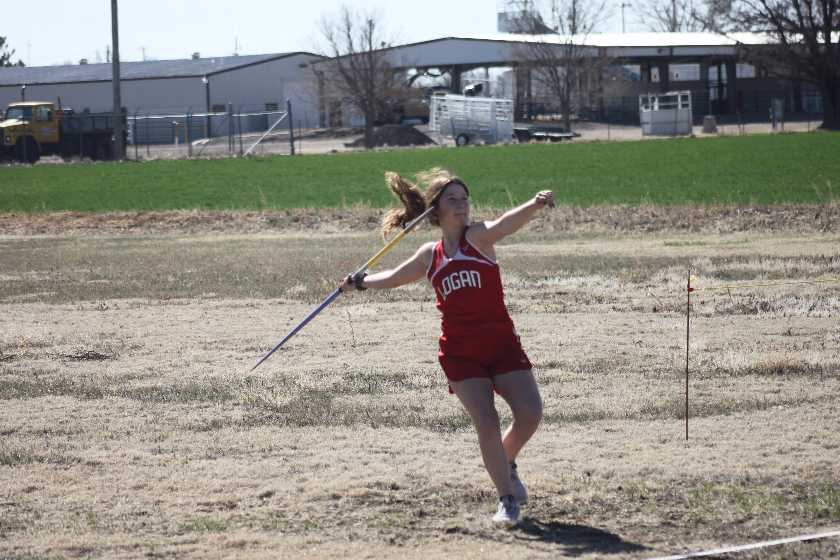 In her approach, sophomore Kendra Alexander throws the javelin at the Triplains Invite.
The Logan High School track team traveled to Colby on April 11 for the Triplains Invitational.
Results are as follows:
Senior Alonzo Ortiz scored 2nd place in the shot put 39'2" and 3rd in the discus 101'. He also placed 7th in the javelin 109' 9". Junior Mara Kats also brought home the silver medal in the shot put with a throw of 30' 7.5". Mara also placed 8th in the discus 67'5".
Hailey McClurg jumped 13'6" in the long jump to place 5th, and also placed 5th in the 100 m hurdles 21.63. She jumped 4' in the high jump. Freshman Lylah Voss placed 6th in the shot 26'3.25". She also participated in the discus 57'4" and javelin 56'10". Kaitlyn Alexander placed 8th in the 200 m dash with a time of 31.38 and 9th in the 100 m dash at 14.71. Kendra Alexander threw 52'6" in the javelin. The 4x100 relay team of Kaitlyn Alexander, Kats, Voss, and McClurg ran 1:05.36. Senior Kylee Uhland jumped 10'5.75" in the long jump and ran 17.58 in the 100 m dash.
Case Ashmore placed 8th in the discus 86'5" with Ryan Prewo right behind him in 9th place with 82'11". The boys reversed roles in the shot put with Prewo throwing 30'7.5" and placing 10th and Ashmore throwing 30'4" and placing 11th. Both boys participated in the javelin with Prewo at 89'10" and Ashmore at 83'3". They also ran the 100 m dash with Prewo clocking in at 14.09 and Ashmore at 14.14. Sophomore Mayson Vahling also ran the 100 m dash in 14.11 and the 800 m run with 2:38.88.
The team will travel to Osborne on Friday, April 20 for the Kaser Relays with the start time scheduled for 3:00.