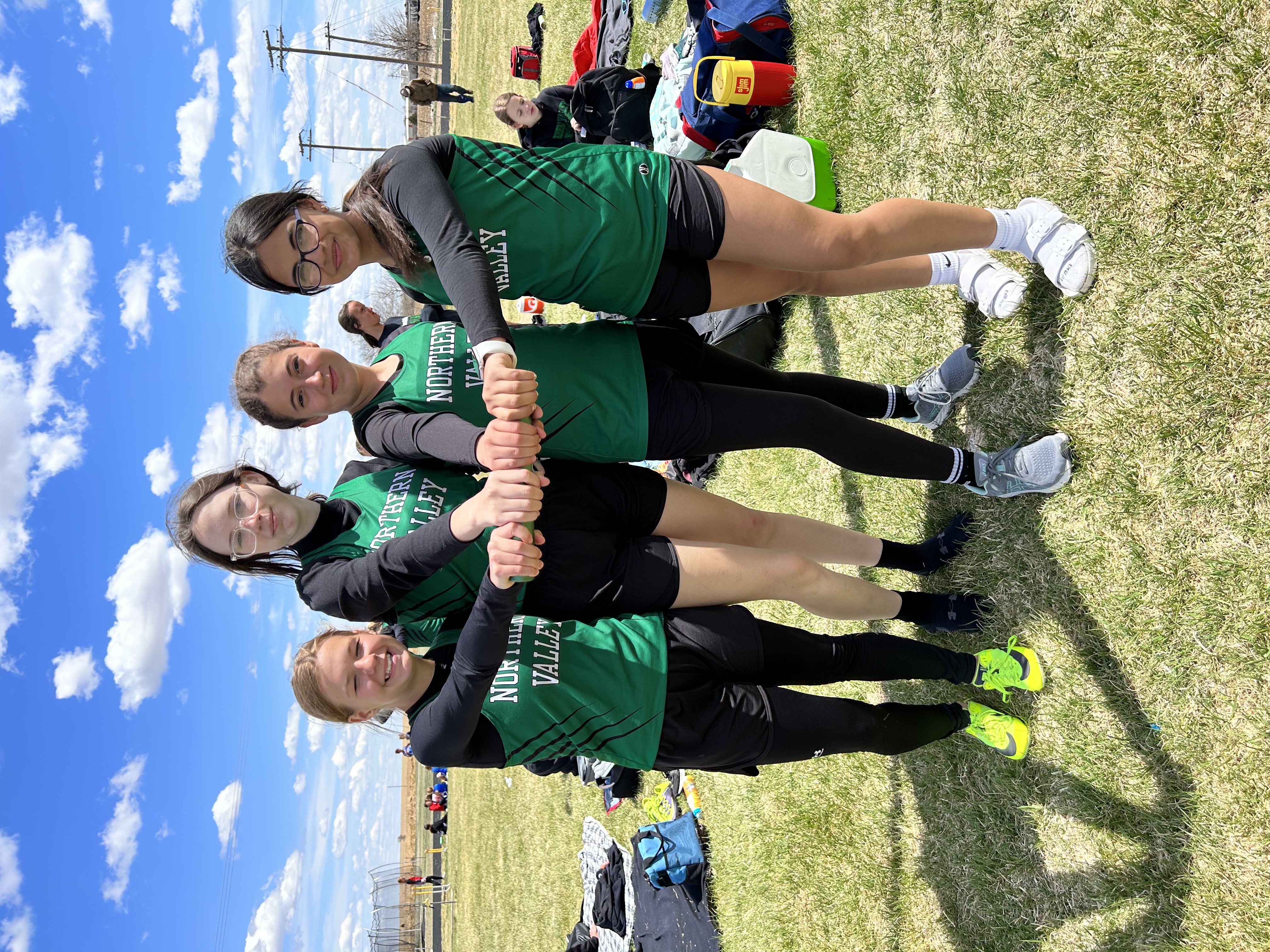 800m Relay Team from left to right: Kylee Ledbetter, Rene' Horacek, Josie Nech, Andrea Meraz
The Northern Valley Middle School girls traveled Osborne to compete in the Bullpup Relays. It was mildly chilly and breezy day for the Lady Huskies.
The NV 6/7th grade girls placed 4th out of seven teams with 61 points. Haedyn Cox earned the gold in pole vault, silver in high jump after tying for first and jumping off, and bronze in the 100m hurdles and 200m hurdles. The 800m relay team of Andrea Meraz, Josie Nech, Rene' Horacek, and Kylee Ledbetter took second. Ledbetter earned the silver in the 75m dash and Horacek took home a bronze in long jump.
The NV 8th grade girls placed 6th out of nine teams with 49 points. Jordyn Cox won the pole vault and 200m hurdles while also placing second in the triple jump and 100m hurdles.
Northern Valley 6/7th Girls Results – 4th Place
Discus 4th – Josie Nech – 61' 3"
Pole Vault 1st – Haedyn Cox – 6' 0"
High Jump 2nd – Haedyn Cox – 4' 2"
Long Jump 3rd – Rene' Horacek – 12' 8.5"
100m Hurdles 3rd – Haedyn Cox – 20.7
200m Hurdles 3rd – Haedyn Cox – 38.9
75m 2nd – Kylee Ledbetter – 12.2
100m 5th – Andrea Meraz – 16.3
400m 6th – Andrea Meraz – 120.1
800m Relay 2nd – Andrea Meraz, Josie Nech, Rene' Horacek, Kylee Ledbetter – 2:17.8
800m Medley Relay 5th - Andrea Meraz, Josie Nech, Rene' Horacek, Kylee Ledbetter – 2:24.2
Northern Valley 8th Girls Results – 6th Place
Discus 4th – Trista Smith – 66'7"
Pole Vault 1st – Jordyn Cox – 7' 0"
Triple Jump 2nd – Jordyn Cox – 26'6"
100m Hurdles 2nd – Jordyn Cox – 18.9
200m Hurdles 1st – Jordyn Cox – 36.9
200m 6th – Trista Smith – 35.7
3200m 4th – Jaycee Gebhard – 16:08.3
800m Relay 5th –, Maddie Wilder, Iris Schemper, Trista Smith Jaycee Gebhard – 2:28.2
800m Medley Relay 5th – Maddie Wilder, Iris Schemper, Trista Smith, Jaycee Gebhard – 2:38.9